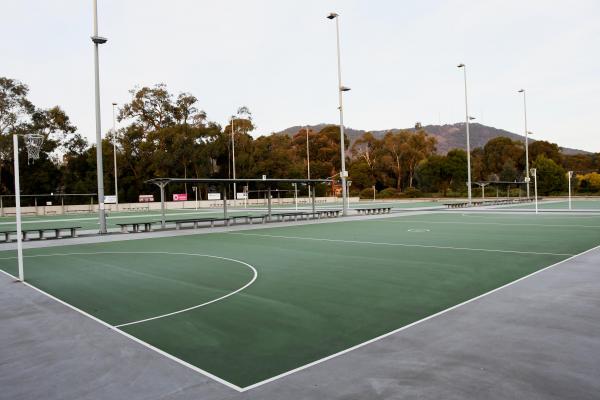 By Mikayla van Loon
The Lilydale and Yarra Valley Netball Association (Valley Netball) which is based at Pinks Reserve in Kilsyth is one step closer to being able to play in all weather conditions.
Three courts have just been approved to have shelters built by Yarra Ranges Council, ensuring the sport can continue during the winter months.
Councillor Len Cox said the netball facility is the largest hub for female sport in the shire, catering for at least 1500 girls and women every Saturday.
"Since the council built those courts, it has been very well used. There's 12 courts, two of them have got a roof on them at the moment and of course it means in bad weather there's really only two courts that are usable at the moment," he said.
When Star Mail spoke to Valley Netball president Simon Grimes in July, the vision was to have a further four courts covered by the end of the year.
"We are very disappointed with the result but are also happy that construction can finally begin," Mr Grimes said.
"After two years of delays in a time when we've had no netball, it would have been great to have the construction works already completed but we're happy to see things move forward."
The State government awarded Pinks Reserve $10.5 million three years ago for upgrades for all clubs that use the facilities.
Due to the delay in construction, only three court shelters can now be afforded under the close to $2 million budget assigned to the netball association.
"Unfortunately, in those three years costs have apparently gone up considerably and so the $2 million isn't enough for four courts to be roofed," Cr Cox said.
Valley Netball have offered to put $200,000 towards the building of the fourth court but it will still leave a funding shortfall of $310,000.
The additional funds need to be located by 16 November to ensure the fourth court shelter can be built with the others.
"It is court three that is not fully funded which is our show court. The shortfall is only $310,000, which is comparatively not much when compared to the funding council have committed to other facilities. It's also a blow considering how underfunded Pinks Netball Facility is," Mr Grimes said.
So far, through a $10 player levy over the last 10 years, Valley Netball has funded close to $1 million worth of upgrades to court surfaces, new seating, additional shelters, security and timers.
Yarra Ranges Council CEO Tammi Rose has been delegated the role of liaising with the State government and Pinks Reserve's Project Reference Group to establish whether funding from other parts of the reserve's upgrade can be adjusted or if initial funding can be increased.
Although not the outcome the council or the netball association was hoping for, Cr Cox said it will give players better facilities than what they have currently.
Greenline Construction has been awarded the tender for the construction of the netball court roofs for a total cost of $1.9 million.