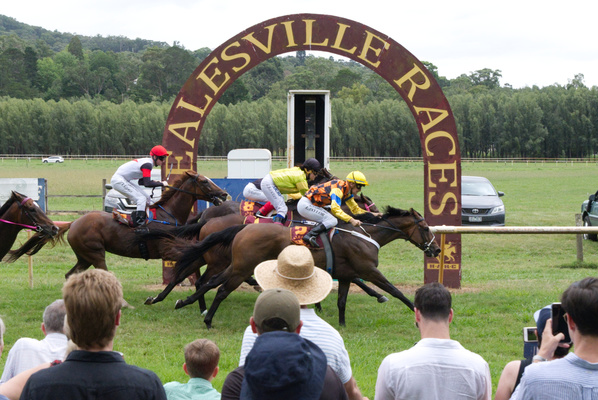 Horse racing operators in the Yarra Valley are holding out hope that crowds will be a feature of this year's spring carnival.
While most sporting events in Melbourne have been cancelled this year due to strict Covid-19 lockdowns, horse racing has been a rare industry permitted to continue – albeit without crowds.
But despite lockdowns beginning to ease, there is still no certainty as to when crowds will return to sporting events.
Healesville Amateur Racing Club president David Purcell said the club was "totally dependent on crowds for funding."
"The professional clubs, compared to say the picnic racing clubs, receive dividends through the TAB turnover, whereas we don't have any off-course turnover. We have on-course turnover," he said.
"Even if we were allowed to have our owners, we're dependent on the people coming through the gate and people taking marquees.
"We have to keep cutting the grass, keep the grass and weeds down and naturally (pay for) our security, electricity, rates, insurance and so forth. They are all ongoing fixed costs before you open the gate.
"We've probably got $50,000 to $60,000 worth of fixed cost annually as a club."
The club's October meeting has already been cancelled, but Mr Purcell said he hoped it could host at least one race before the end of the year.
"We often do really well out of our November and December meetings, purely because of the Christmas function side of things," he said.
"We'd be hoping to get crowds in excess of 1000 at least."
Despite being in a slightly better position, Yarra Glen's Yarra Valley Racing is also set to be impacted if crowds aren't permitted over spring.
"We'll certainly see racing at our venue, as to whether crowds are able to attend, particularly in the spring, that's at this stage not likely," Yarra Valley Racing CEO Brett Shambrook said.
"We can get through it from an operational perspective. From a financial perspective it does make it tough because that is how we make our money really, through crowds coming in."
Mr Shambrook said travel restrictions were an additional factor that would influence crowds over spring.
"We're located in Yarra Glen which falls under the umbrella of metropolitan. We're considered to be a country club but we're under that metro umbrella, so that makes it a little more difficult for us," he said.
"The travel restrictions, the 5 kilometre and now the 25 kilometre, doesn't help us a lot because our customers are probably coming from further afield."
He added that the venue could "comfortably accommodate" about 2500 people safely.
"Our race course grounds are about 38,000 square meters so we could comfortably have 2500 people at the venue and they would have 15 square metres per person," Mr Shambrook said.
"It would be financially viable, it would help us a hell of a lot because we're a pretty large employer too, it would help a lot of our staff."
The State Government's roadmap for reopening indicates that professional sport and racing will be restricted until the state reaches the Covid Normal stage.
However, under the Last Step, outdoor and seated crowds will be permitted with patron caps. Meanwhile, it states that "major events will be the subject of additional work and further consideration."
Premier Dan Andrews has flagged that more announcements on easing restrictions will be made on 25 October, provided recorded Covid-19 case numbers remain low.