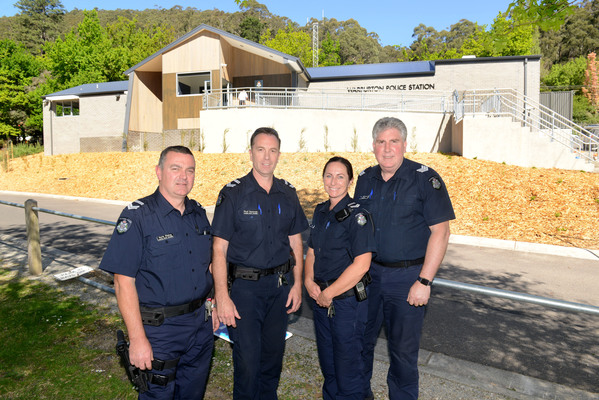 The new Warburton Police Station will be officially opened by Northern Victoria MLC, Jaclyn Symes, on Monday 29 October at 12pm.
The station is built on the same site as the old one but the best view in Warburton is about all the two stations will have in common.
The old building was variously described as 'out-dated, dilapidated, sub-par and not fit-for-purpose', prior to its demolition in late 2017.
Amid builders hurrying to finish off, Warburton Sergeant, Tom Wilkinson, said his team will be moving in on 24 October.
"I've been banging on for years to anyone who would listen that we needed a station like this," he said. "For a start, we are now accessible to everyone in the community with the ramp that's been put in."
"The station has the right space where we can deal with the public on sensitive matters and we have a very secure and safe custody area."
"Our biggest concern has always been around the security of our members and the new custody area gives us a facility built exactly for that purpose."
"There is a multi-purpose emergency management room that can be used to coordinate emergency or disaster responses across all of the agencies involved."
"It will have all the services and technology that is needed in an emergency and in a fire danger area like this that's vital."
One of the team working from the new station will be Leading Senior Constable Kevin Bishop. "Working in a safe and secure place is an important factor for police and the community who rely on our services and attend the station," he said. "The old building just couldn't provide that and this one can."
Police service levels will not be changing and Warburton will still be designated a '16-hour station', with a team of five officers supporting Sergeant Wilkinson.
"The best way to access services in an emergency is always through triple zero. We work in tandem with Yarra Junction station and we are well supported with resources in the Eastern Region when needed," Sergeant Wilkinson said.
"The bottom line is that from this station we can give the community much better service and my team will be able to work in a safe, secure and functional environment."
With that, LSC Silvia Jarvie pushed the photo shoot along so she and colleague, LSC Brett Hanscomb, could take off to an urgent call for they had just received.