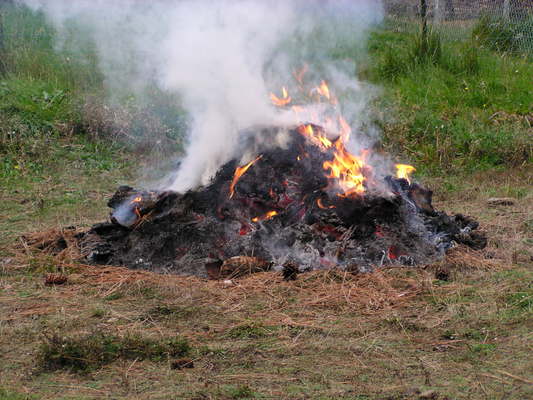 By Kath Gannaway
A new Open Air Burning Local Law for Yarra Ranges moved a step further at the 10 July council meeting with a majority of councillors endorsing the recommendations proposed by the Special Committee tasked with updating the law
The draft which went out for public comment in April drew 210 submissions, followed by a meeting on 20 June at which 43 submitters who opted to speak had the opportunity to represent their views in person to the councillors.
Controlling burning-off for fire prevention on private land while protecting air quality for residents and visitors required 'careful balance', the report by the Director of Social & Economic Development said.
The majority of the submissions were from rural and bushland landowners calling for fewer restrictions.
The proposition that fires should be extinguished at 6pm, and the ban on June/July burn-offs drew substantial opposition, as did a proposed new law which would prohibit landowners from reducing fuel on roadsides adjoining their properties.
A proposal to restrict the volume of a burn-off to 1 square metre, and not burn where wind speed was greater than 10 km/hr were in a majority of cases seen as impractical.
Constant adult supervision of fires by an adult, a requirement to register a burn with the CFA two days prior, and to notify neighbours 24 hours ahead was also seen by many as impractical.
A submission by Agribusiness Yarra Valley addressed all of the above issues calling for restriction on burning between 8am and 6pm to be omitted.
Numerous submitters pointed out that extinguishing a fire at 6pm could waste water resources, make lighting up again the next day difficult and create more smoke.
A Yellingbo resident who identified as Captain of the local fire brigade called for the existing law to stay.
"With most cases in Yellingbo the safest time to be burning is in the evening," he wrote.
"Sundays should be included for burning to ensure residents have time to complete fuel reduction burns as the cost of green waste disposal and transport is not an option."
A Woori Yallock submitter highlighted the problems faced by working families.
"Working five to six days a week, we continue to struggle to find the appropriate time outside of fire danger periods, not on a Sunday, when the wind speeds are low enough, not during June/July, when fuel is not wet and due to cause excessive smoke, in which to burn the large amount of green matter and fuel that the property generates," she wrote.
An Olinda submitter who also identified as a former CFA volunteer said the proposed burn-off days were too restrictive, but called for more enforcement of rules relating to pile size, burning of green or damp material and during windy weather.
"Every year I witness burn piles ready to burn left over into the summer danger period because people have not had enough opportunity to burn such piles. These all add to the summer bushfire risk," he wrote.
He said most offensive were burning of leaves from deciduous trees which could be composted, mulched, or where safe left to nourish the trees they came from.
A Mount Evelyn submitter called for Mt Evelyn, in the bushland area, called for open air burning to be banned, in line with Lilydale and Mooroolbark.
Garden fires produce a lot of drifting smoke, they said. "This is done at any time they wish. We are both asthmatics and this drifting smoke affects our health."
The 210 submissions and responses are detailed in the minutes of the June 20 meeting:
https://www.yarraranges.vic.gov.au/Lists/Minutes-Agendas/20-June-2018-Special-Committee-Meeting? minutes .
The Special Committee resolved to submit the officer responses to the submissions to Council at its 24 July meeting as preliminary recommendations.
Those recommendations included removing the June/July restriction for rural areas and removing time limits, fire size limits and the need for adult attendance, along with raising the wind speed limit to 19kph.
Moving the motion on 10 July, Cr Tim Heenan said Council was pleased to hear from Dandenong Ranges and Yarra Valley residents and that council officers had taken on board some of their concerns.
Cr Clarke however opposed the motion saying he did not support submissions that called for non-attendance at burn-off sites or unlimited stockpile size.