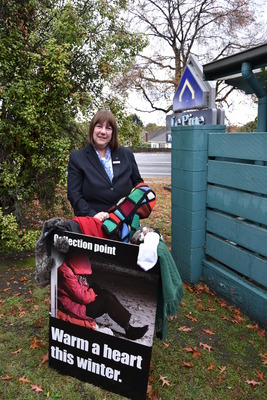 By Wendy Williamson
As winter's chill begins to bite and you bunker down with a blanket or two, spare a thought for those who are doing it tough.
Cold days and freezing nights bring misery to the many people who can't afford to turn their heaters on – or don't have a heater or so much as a roof over their heads.
It is with these vulnerable people in mind that Anglicare Victoria and Le Pine Funerals have teamed up to run the 'Warm a heart this winter' appeal.
They are asking you to support those less fortunate by donating clean, warm items, such as blankets and beanies, scarfs and socks, gloves, jackets and sleeping bags.
Canned food items, with at least six months to expiry date, may also be donated.
Offices of Le Pine Funerals across Victoria are drop-off points for the goods, which will then be passed onto Anglicare for distribution to those in need.
In the Yarra Valley, Le Pine Funerals has offices at Healesville, Lilydale and Croydon where goods can be donated in the boxes supplied.
Jenny Smith from Le Pine Funerals Healesville said she welcomes donations.
"It's a very worthwhile cause. The cold weather has hit with a vengeance, so I am sure any warming items will be very much appreciated," she said.
"Join us in supporting Anglicare's important work this winter by dropping off your donation, and know that you have helped to make someone's winter more bearable."
Le Pine Funerals Healesville is at 102 Maroondah Highway and is open Monday to Friday 10am to 4pm. Car parking is available on site.
For your nearest drop-off point and more information about items you can donate visit lepinefunerals.com.au.
Donations to the 'Warm a heart this winter' appeal will be gratefully accepted until June 30.