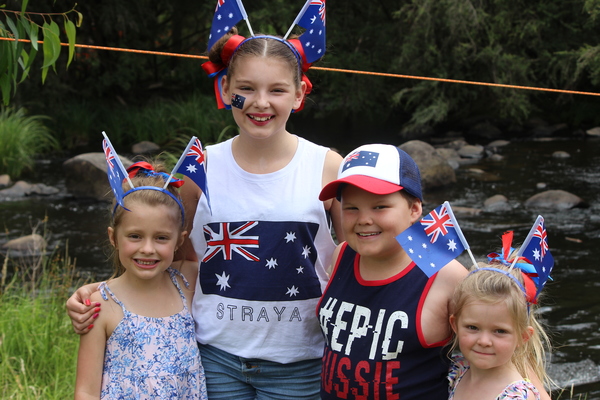 By Peter Douglas, Derek Schlennstedt
Australia Day is more likely than not to remain on 26 January, if the Yarra Ranges' state and federal representatives are called upon to vote.
After a 'Mail' survey of local politicians and community leaders, all who responded want the date to remain unchanged, some also expressing concerns of disunity over debate surrounding the issue.
Greens leader Richard Di Natale earlier this month reignited the issue after calling on the date to be changed, declaring it a day for 'all Australians'.
Though, Mr Di Natale's pleas have won little support locally.
Gembrook MP Brad Battin, Evelyn MP Christine Fyffe and Eildon MP Cindy McLeish have failed to support the bid.
Federally, Casey MP Tony Smith also refused to show any support, while La Trobe MP Jason Wood said "he would not be commenting on the matter at this time".
Mr Battin said Australia Day, as it stands, is one of his favourite days of the year.
"I'm very proud to say January 26 is Australia Day. It's a day of unity and celebrating all that's wonderful about our multicultural society," Mr Battin said.
"It's a day of unity and I don't think it should be the cause of any division."
Mr Battin said this year he would be attending events at Cockatoo and on behalf of the Casey-Cardinia region, before enjoying a quiet barbecue with a friend later in the day.
Fellow state MPs Christine Fyffe and Cindy McLeish were clear on their position, too.
Ms Fyffe said, "Surely those who are agitating for change would be better to focus their energies on improving the health and education standards of our Indigenous population and help them find meaningful jobs?"
While Ms McLeish said, "I don't support the change of date. It's interesting when you talk to a number of different Indigenous people, a lot of those I have spoken with don't have a problem with it, but I understand there are some who do".
"Of course I don't talk to everyone about it, and don't canvas heavily, people have said to me they have no problem with it; and within the Aboriginal community, it's divided as well," she said.
At a federal level, Casey MP Tony Smith said the day should remain as a way to celebrate "what we have achieved as a nation".
"We are a democratic nation of opportunity, a nation where we will always be striving to do better. We have flaws but while we do not shy away from them, nor should we let them overshadow our incredible success," he said.
"Australia is a truly special nation that is the envy of so many in the world. Many of those who choose to make Australia their home also choose to celebrate this and become citizens on the 26th of January."
Although not supported among local politicians, there are many in the community who would like to see the date changed.
Among those include Belgrave local and long-time organising committee member of the Belgrave Survival Day, Bonnie Zuidland.
"We need to change the date. I've been working with the Indigenous people for many years and it's a sad day for them," she said.
"The traditional paraphernalia surrounding Australia Day does not represent the Indigenous culture. Just changing the date is only one part of the solution.
"There'a a lot of work to be done to rectify the challenges still faced. Belgrave Survival Day is about helping Indigenous community to engage."
The Belgrave Survival Day event is now into its 11th year and continues to gain incredible momentum among the local Indigenous and non-Indigenous population.