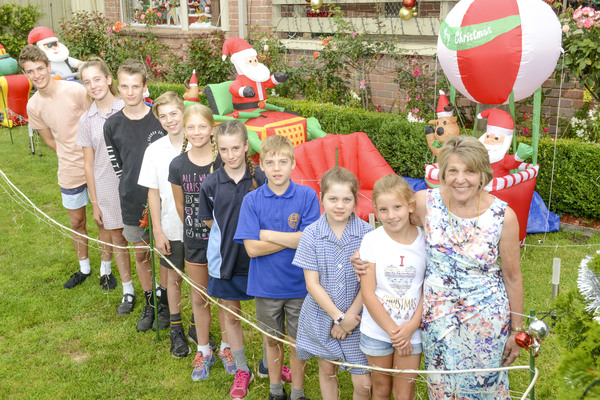 By Kath Gannaway
Joy to the world is a Christmas message that Healesville grandmother Faye Donkin has embraced with growing enthusiasm over the past 30 years or so.
With the help of her children, and now her grandchildren, Jayden, Kalyn, Tyra, Ebony, Maya, Bryce, Dylan, Liam, Abbey and twins Clive and Hugo, her Don Road home is a Christmas light extravaganza that brings joy to young and old from 1 December to New Year's Eve.
Faye started her Christmas obsession in Coldstream 30 years ago and continued when she moved to Airlie Road, Healesville. For the past five years she has enjoyed prime visibility at 54 Don Road.
All the family pitch in for the big light-up on the first day of December.
"The grandkids all have their own trees that they decorate themselves and then they help with all the other decorations," Faye said.
"They love to be here when the lights are on and show people around."
In the early days most of the decorations came from Myer, but as the popularity of Christmas lights has grown, her collection has grown and there is now plenty of choice in Christmas shops and online.
"I never thought when I started with just a few little strings of lights I would end up addicted like this," Faye said "It's great fun and if it encourages other people to light up their houses, that's lovely too."
One man shows his appreciation each year with a small donation towards the electricity bill, and while that gesture is very much appreciated, for Faye, it's all about the kids.
"I love to listen to the children talking as they look around.
"You can hear in their voices, and see as their eyes light up how excited they are … it's just great."
If you have a Christmas lights display, why not join Fay and her 'elves' in sharing the sparkle and joy of Christmas by uploading a photo of your house, with your street name and town, on the Mail Facebook page.