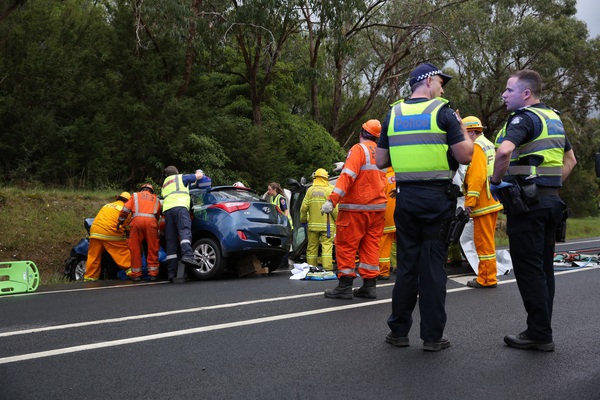 By Derek Schlennstedt
A collision on the Warburton Highway on Thursday was the second serious incident there in the past few months.
Two cars collided head-on, about 5pm on 19 October, prompting closure of the road between Carter Street and Alpine Boulevard.
Police believe a four-wheel drive travelling from Launching Place towards Woori Yallock lost control and veered into the oncoming lane, colliding with a small hatchback travelling in the opposite direction.
The two occupants of the smaller vehicle were trapped for nearly an hour before emergency services were able to free them.
One of the occupants of the hatchback, a woman in her fifties was flown to the Royal Melbourne Hospital with serious chest, pelvic and abdominal injuries.
The other occupant, a male in his fifties suffered pelvic and leg injuries and was also taken by ambulance to the Royal Melbourne Hospital in a serious condition.
The driver of the 4WD, a woman in her teens, and believed to be on P-plates, had minor injuries and was not taken to hospital.
The collision comes a month after a similar car crash took place in the same area.
A resident, who lives near the highway, said she had seen a few accidents occur near the same spot which she said was partly due to a 'large bump' which had formed and could unsettle a car.
"It's a terrible stretch of road … there are always accidents there," she said.
Fiona Burns, Hillcrest CFA Captain, said that although there had been some crashes along that stretch, they were usually unrelated.
"We'd had one within the last month that was also a serious accident, under similar circumstances and road conditions, but prior to that one there hadn't been one for some time," she said.
Yarra Ranges Highway Patrol believe the crash was a mixture of both driver inexperience and poor road conditions.
"The 4WD was coming up the hill on the bend and the driver lost control of the vehicle and had a head-on with the other vehicle heading in the opposite direction."
"It was a combination of driver inexperience and poor road conditions," police said.
Yarra Ranges Highway patrol Sergeant Dave Macclefatrick reminded drivers to drive to the conditions especially following days of warm weather and then rain.
"Obviously, during period of heavy rain drivers must be aware of the road surface changes and need to drive to those conditions … especially after dry periods where oil can soak into the tarmac and then leech out when it rains," Sgt Macclefatrick said.