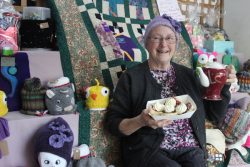 By Kath Gannaway
It's never been easier for Healesvillians, and visitors, to take part in the Cancer Council's Biggest Morning Tea fund-raiser.
Healesville Lions Club members are continuing their four-year tradition of holding an 'all-day' tea at the Lions Den Op Shop in the main street on Thursday, 25 May, but for those who can't take time away from their shop or office, they also do a Devonshire tea and muffin run.
Jan Oakley and Lynn Kohler play a major role in the event knitting hats, beanies and tea cosies, and mounting the window displays that feature the best of tea-related items that come into the shop during the year.
Jan said she and Lynn, along with everyone involved, had at some point in their lives lost someone special to them to cancer and that all their volunteers got involved on the day.
"It's an event that has grown every year and gets better every year," Jan said.
Dining in the Den is from 10am with sandwiches, scones, muffins and slices available with tea and coffee for $5.
The Lions ladies will deliver order forms around town leading up to the day or phone 5962 1251 to put in an order.
Tickets are on sale now for some great raffle prizes including a beautiful hand-crafted quilt and hampers which will be drawn on the day.
Funds support the Cancer Council's work in cancer research, prevention and support services.