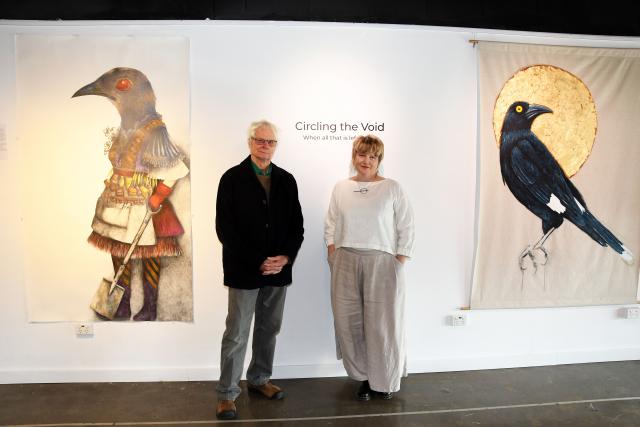 By Renee Wood
Death is difficult for anyone to digest, leaving a void in the hearts of friends and family that is hard to quell.
However, death is something that we all will be touched by throughout our lives – and at the end of them.
Although the topic might seem dark, it's been reflected on in a light and meaningful way within YAVA's latest exhibit, with a special collaboration of work from artist Bronwyn Ward and the late Sally Miller coming together for Circling the Void, When All That is Left is Love.
Sally Miller was a Badger Creek artist who sadly passed away seven years ago due to a degenerative disease Multiple Systems Atrophy, a rare condition of the nervous system that causes gradual damage to nerve cells in the brain.
During the final months of her life, Sally managed to illustrate how she was feeling as the disease progressed through her art in a series of nine pieces.
They are works her brother, David Miller, wanted to share with the public and before the pandemic he enlisted Bronwyn Ward to form a collaboration for a special exhibit joining their creativity together.
"I was proud of what my sister did… it's been a long journey. It's emotional thing to see it here," he said.
"Each one of them is about a different aspect of what she was feeling and her experience as she was dying," David said.
"This was drawn by a woman who could no longer feed herself, couldn't walk, was in a wheelchair, could hardly sit up… no longer able to write but she could draw like that."
Bronwyn's background is in palliative care and she worked in hospice for eight years, with her past and personal experiences of death and grief intertwined within this body of work.
"I really wanted to make work that was visually quite beautiful, it's very light, there's no darkness really within the pieces themselves… They're very beautiful because that's what grief is – it is our love that no longer has a home," Bronwyn said.
"Although grief is a daily challenge for us, we wouldn't want to not have it because that would mean we lost that love that we have for that person or that animal in that situation."
The works created by Bronwyn address fragility of memories by working with glass and the connection with how communities and families respond to death through starling formations.
Pieces in this exhibition are made of glass with Bronwyn's work supported by Sustaining Creative Workers Initiative grant through Regional Arts Victoria and Creative Victoria.
"The pieces are about the importance that memory has once we've lost someone. So we have memories of the things we do with people, but once that person is gone those memories take on this extra layer of value to us, they become really fragile and we become really protective of them and we become quite frightened that we can lose them."
Although different artists and works created at different times, the body of work has morphed into one within the exhibit which can be seen until 24 July at the Healesville gallery.