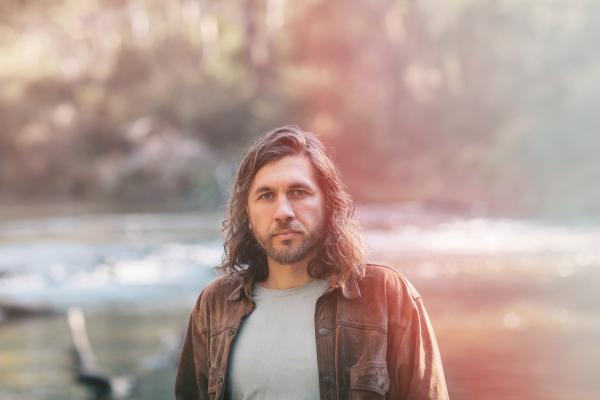 By Renee Wood
There are plenty of talented artists hiding in the region and one of those is Australian music star Sam Teskey from The Teskey Brothers.
Sam and his family call Powelltown home, living in an old woodcutters cabin surrounded by the state forest.
A place that's allowed the musician to find his own rhythm throughout the ups and downs of lockdowns.
"You can just live in your own little settlers life and forget about the news and turn off social media and live in quite a bit of bliss, so we've been very fortunate to have that," Sam said.
"Coming off the back of many years of touring and trying to keep riding the wave as it goes with The Teskey Brothers I haven't really ever been able to be settled at home, I realised after the first lockdown last year that I've never actually been that grounded for years."
The time housebound also offered the perfect opportunity for Sam to create his debut solo album Cycles that was released Friday 8 October.
The album's tone is blended with Sam's love for 60s and 70s folk and psychedelic music, with seven songs woven together as a poetic revolution.
Two songs have been released earlier in the year, the opening track Love and 'the heart of the album' Til The River Takes Us Home.
Both a taste of how sweet synchronicities of time, place, emotions and sound are embedded within the soundscapes.
This is evident in 'Til The River Takes Us Home' when the listener is swept away as if you're there on the recording day when birds land in the background at his Warrandyte Studio.
Sam said the environments involvement in this take was the defining moment why it was chosen.
"Because we were recording it outside, we pretty quickly realised the outside environment was also a musical part of the song and it wasn't just about the three of us who were performing live."
Sam describes another background hum of a truck going up a hill – a significant moment when the environment and musicians are in harmony for a song close to Sam's heart.
"The song came about when my partner and I had a baby last year that only lived for an hour.
"That was a bit of an uphill battle to get over the grieving process of that itself. Saying goodbye to a son that hardly even lived was very significant to me at that time, so that verse with the wind and the truck pushing up the hill was very symbolic of the the struggle that me and my partner went through."
Now with the album released, listeners can embrace the full cycle of side A and B, all seamlessly melting in to one another – the way Sam always wanted to share it.
"I've really felt that the story isn't in those two singles for me, 'Til The River Takes Us Home' is definitely the heart of the album and that's why its placed in the centre – it really tells a story within itself in its own cycle. But really overall I've made the album for people to listen to it from start to finish.
"You can take it on any journey you want depending on your own life experience and your own personal experiences. So that's something that I really want to invite listeners to be a part of."
The album tour will be the next path for the artist, two Victorian shows have been announced – the Corner Hotel in Melbourne on Tuesday 14 December and Castlemaine's Theatre Royal on Thursday 16 December.
"I've got a really good idea of how I want the live set to be, I've had a lot of time to put a lot of thought into it and it's going to be a great journey to come to the show."
Although Sam's nerves are high, he's eager for the tour to commence after several postponements from the lockdowns.
"I have a lot to give on the journey of a live performance, so I want to make sure there's enough time to prepare for that because we're creating something new as well."
Local fans may also get a treat, Sam's hopeful a special gig could be held in the region depending on schedules and lockdowns.
"I might actually have a few pop up shows maybe at the start of the tour at home and just do some last minute shows in Healesville, or Warburton.
"It might be a nice way to start the tour. I tried to do that before I had a gig booked for the 17th of September, which obviously didn't happen in Warburton.
"So we will just wait it out and keep preparing, getting the set ready – it's going to be a lot of fun."