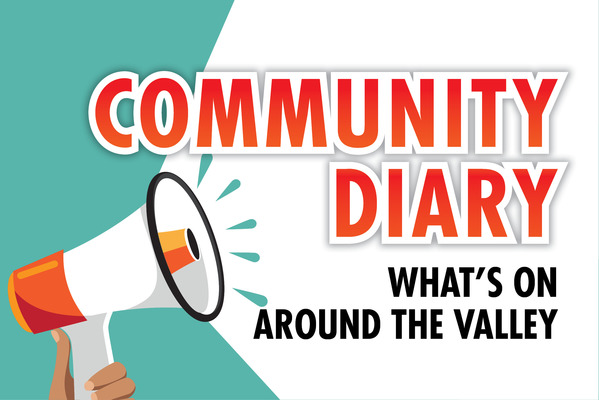 Bank birthday
Warburton and Yarra Junction Bendigo Bank branches are celebrating its 20th and 12th anniversary with a free sausage sizzle and giveaways on Friday 28 February from 12.30pm. A cake cutting will take place at the Warburton branch at 3.30pm and then at 4pm at the Yarra Junction branch.
Clean Up Day
Join HEWI members for a clean up along the Yarra River at Everard Park, Maroondah Hwy, Healesville on Sunday 1 March. Meet at 10am for a free morning tea followed by a guided walk led by council bushland officer, Steve Brunt. BYO gloves, no pets please. RSVP: 5962 5115 or gbfacilitator@gmail.com.
EACH Healesville
Healesville's EACH are hoping to connect with NDIS funded participants for arts and craft activities. The art group takes place on Tuesdays from 10am to 3pm, while the craft group operates on Wednesdays from 1pm to 3.30pm with no experience necessary. EACH is located at 1 Badger Creek Road, Healesville. Inquires: 5967 5800.
Notes on Sunday
Notes on Sunday will return to the Darron Honey Centre, Healesville Uniting Church on 1 March at 2.30pm. The concert features a trio arrangement of Mozart's Magic Flute, which includes Borodin string quartet, some Schumann piano quintet and party pieces by David Henderson. Entry is by donation with proceeds to go to a bushfire appeal, with refreshments provided.
Healesville CoRE
Healesville CoRE invites you to a free community event to discuss all your rooftop solar options. Topics will include batteries, microgrids, and the benefits of participating in the 2020 Yarra Ranges Council Community Solar and Battery Offer. Everyone interested in community renewable energy is invited to attend. Monday 2 March, 7pm, at the Darron Honey Centre. Register your attendance at www.healesvillecore.org.au/upcoming-events/
Meet the author
A Constant Hum author Alice Bishop is hosting a free talk at Yarra Junction Library on Monday 16 March at 2pm. Ms Bishop's short story collection offers a series of vignettes of heartache, hope, anger and survival after the 2009 Black Saturday fires. It was shortlisted for the 2019 Readings Prize for New Australian Fiction and recognised in the Penguin Prize for Literary Fiction.
DV-alert training
Lifeline will be delivering the national Aboriginal and Torres Strait Islander DV-Alert training in Healesville, on the 30-31 March at Healesville RSL at 9am-5pm. DV-Alert is a two day training opportunity for people working in frontline community services sector, education, health and allied health professionals that enables workers to recognise, respond and refer potential clients that may be going through domestic and family violence. Visit: https://bit.ly/392IUJM.
Trivia night
Warburton's Catprint Theatre Company is hosting a trivia night at Warburton Senior Citizens Hall on Friday 21 February at 7.30pm. Teams of up to eight people are welcomed for $10 per person. Enquiries: 0402 102 142
Badminton
Healesville Badminton Club is on the lookout for new players to join their small and friendly club. The club plays social games at the Scouts Hall on Wednesdays 9-11am. Cost is $5 and all skill levels are welcome. Enquiries: 5962 2885
Women 4 Women
Join other local women for a summer 'sound bath' to soothe the soul at Healesville Women 4 Women's Summer Gathering on Sunday 23 February 1.45-4.30pm. Activities include sound healing session and a women's health talk by Eastern Health followed by afternoon tea. Bookings essential. For more information, visit https://bit.ly/2uzU0Ho.
Writers and Rhythm
Celebrate our musical community at Writers and Rhythm on Friday 21 February 7pm at the Healesville Uniting Church. Blackspur presents original songs, Denise Gilbert and Catherine Nolan will be representing their Hello Healesville reminiscences, Pete Read's CD launch will take place and Hoel Durand will share new material. Tickets are $15 at the door, which includes supper, tea and coffee with all proceeds going towards Healesville CFA.
VIEW Lunch
The next Yarra Valley VIEW Club lunch will take place at the Yering Meadows Golf Club at noon on Tuesday 25 February. Inquiries: 0419 007 728.
Open Court Sessions
Healesville Tennis Club is hosting Open Court Sessions – a new, fun, social format suitable for all skill levels with food and drink included. Book a session now at play.tennis.com.au.
Nurturing Sister Circle
The Nurturing Sister Circle women's support group gives the opportunity to meet and connect with like minded women. The group offers various creative and self-development activities, Qigong, meditation and light refreshments in two locations starting 7 February in Woori Yallock and 21 February in Mooroolbark. Enquiries: 0413 026 817 (Woori Yallock) 0407 879 138 (Mooroolbark).
Barefoot Bowls.
Enjoy an evening of barefoot bowls at Yarra Junction Bowling Club every Friday between 6.30-8.30pm. The bar will be open and there will be a sausage sizzle and music.The Club will supply all necessary sports equipment and green fees of $5 apply. Please wear flat shoes or bare feet and comfortable casual clothing.
HICCI dinner
HICCI are hosting a community dinner every Tuesday at 5.30pm, featuring a free two course meal at the Darron Honey Centre, rear of Healesville Uniting Church. Everyone is welcome.
Over 50's friendship group
A new community group for older people in the Yarra Valley has been created with the purpose of enabling people to get together and develop new friendships. The Over 50's Friendship Group is a place to share knowledge, enjoy card and board games and to have a chat. Group meets every Monday at the Yarraburn Senior Citizens Centre at 1.30pm.
Probus welcome
The Valley Ladies of Healesville Probus Club meets every third Monday of the month at 11am in the seniors club rooms at River Street, Healesville. Probus clubs are for semi or retired people looking to keep their minds active and expand their interests. Inquiries: 5962 1890.
Probus for men
The Men's Probus Club of Healesville meet every Third Thursday of the month at 9.30am at St Brigid's Church Hall. Enjoy fellowship and interesting guest speakers with like minded people. Inquiries: 0409 930 750.
Girl Guides
Healesville Girl Guides now meet at the Healesville Scout Hall on Tuesday nights from 6pm. Girls aged 5+ are welcome.
Pathways for carers
The Pathways for Carers project offers carers of people with a disability or mental illness an opportunity to share walks together and to learn more about support and services available. The group meets every fourth Wednesday of every month at Beechworth Bakery. Inquiries: 5962 5982.
Badger community meeting
Badger Community Group meets on the first Tuesday of every month at 7pm at the Badger Creek Old School. Local people work together to make Badger Creek even better. All welcome.
Probus ladies
The Healesville Ladies Probus Club meets every third Friday of the month at 10am in the Senior Citizens Hall. Attendees can enjoy making new friends who will enrich their life in retirement. There's no fund-raising involved and new members will be made very welcome. Inquiries: 5962 3713.
Bingo and social activities
Healesville Senior Citizens Club is seeking senior members of the public who would be interested in meeting new people to come along and join their activities. Bingo is held every Friday afternoon from 1pm to 3.30pm and general club meetings are held on the fourth Tuesday of every month, featuring lunch and entertainment. Inquiries: 5962 1550.
Grieving parent support
In support with Compassionate Friends of Victoria, a social luncheon group meets in Healesville on the third Wednesday of each month for parents who have lost a child. Inquiries: 5962 3287.
Reach out
Is there a free or low-cost community event you'd like to share with our readers? Send an email to editor@mailnewsgroup.com.au by 5pm on Wednesdays for inclusion in the following week's edition.