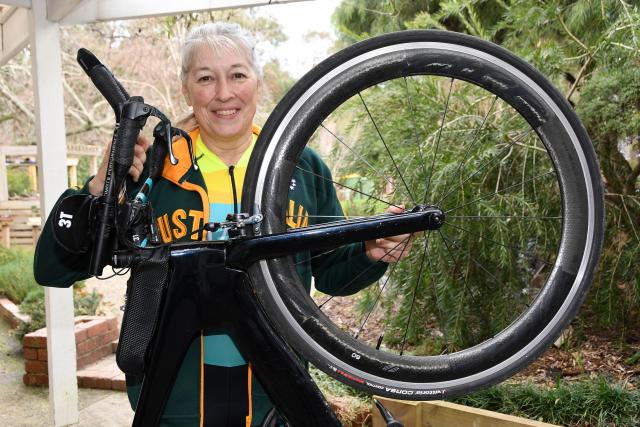 By Renee Wood
A trip to Slovakia for the World Triathlon Multisport Championships awaits a Healesville triathlete after qualifying for two major international triathlons this year.
56-year-old Karen Mays was shocked to hear of her qualification for the World Triathlon, which is being held in late August.
"It's just unexpected.. It's only really dawned on me in the last couple of weeks just how epic it is," she said.
The second competition will be the Ironman 70.3 World Championship held in Utah, USA in October.
Ms Mays is now currently training 16 hours a week, swimming, cycling and running three times a week each with some strength training under the support of her Healesville trainer Brian Curren, who first suggested triathlon training.
The pandemic put a stop on competing opportunities over the past few years however, Ms Mays made up for it this year – coming fourth in the Ironman Geelong 70.3 and second in the Ironman South Australia this year in her previous age group of 50-55 year olds.
After her recent success, Ms Mays aspired to go to the World Championships next year and decided to apply for this year's to get an understanding of the application process and was shocked to qualify straight away.
Ms Mays is thrilled with her progress after initially starting to run seven years ago with her husband Trevor as a way to support her mental health.
"I was just in a hole that I got to the point where I was reluctant to even go out to collect the mail, so I thought I've got to do something about it, so I started working at it bit by bit and day by day," she said.
Ms Mays has depression, ADD and autism and wanted to share her story with others in hopes to inspire them to not let anything hold them back.
"If I can help someone start their journey or continue, and realise you don't have to be 15 to get out there and start."
Ms Mays said consistency is the key, to keep pursuing and pushing to take every day as it comes.
"Just do something every day and just keep at it, don't have to be a hero, don't have to do it in 12 months and you don't have to be young," she said.
Her husband, children, trainer and the triathlon community have all been supportive along the journey to help reach her goals, always setting little marks along the way to reach the next step.
"I look more on feeling comfortable because I find if I try to go fast, I tense up and then I ended up actually getting slower."
As an at home carer looking after her children, Ms Mays said it's a great opportunity to get out of the house and the social aspect too.
"It's a very, very accepting group of people," she said.
"I was last for the first couple of years and you've crossed the line and the people that had won had gone home, had a shower and have come back for the people who still had to finish you."