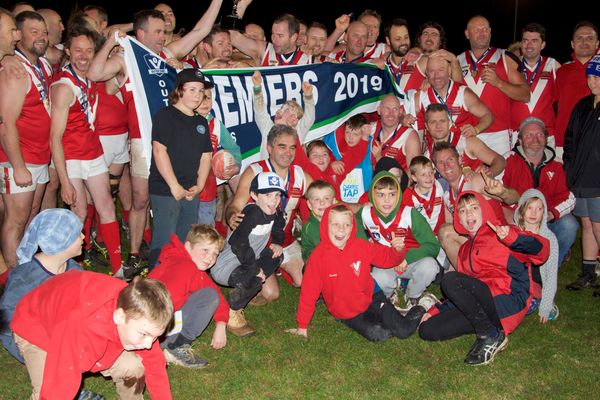 Healesville Football Netball Club's veterans team are the 2019 AFL Outer East premiers after defeating Gembrook-Cockatoo by 16 points on Saturday 10 August.
The Bloods were supported by a strong home crowd at the Don Road Sporting Complex.
Healesville finally took home the premiership cup after falling short in the grand final for the previous two years.
They took a seven point lead at the first break, and then led by 13 points at both halftime and the three-quarter time break.
Peter Harvey was awarded best on ground for Healesville.
Coach/player Dean De Munk described winning the premiership as a relief.
"It was just so good to see a lot of smiles on all of the players' faces, but also our volunteers and our family and friends."
It's about those workers behind the scenes and it was a due reward for the people who do a lot of hard work at the club.
De Munk wished to thank Kylie Rowe and Beck Plozza for their work at Healesville FNC.
"For a lot of the boys it's their first premiership even though they are in their forties and then for some it's been their first premiership since playing for the Healesville under 15s."
Prior to the grand final, De Munk said that if the Bloods were successful, he would look forward to hanging up the boots and now he is set to follow through on those words.
"100 per cent, that will be happening.
"To share something like this with some of your best friends, it's very overwhelming.
"The team will continue next year, I won't be coaching but hopefully one of the lads within the group will take on the role.
"I still want to be a part of it, but it is someone else's turn now."
The veterans team celebrated their victory at the Terminus Hotel for Mad Monday.
Healesville 6.7.43 (R. Hay, A. Peters, S. White, L. Barclay, M. Collins, B. Litchfield) defeated Gembrook-Cockatoo 4.3.27 (M. Granieri, C. Clarke, D. Zaffarese, J. Jeans).