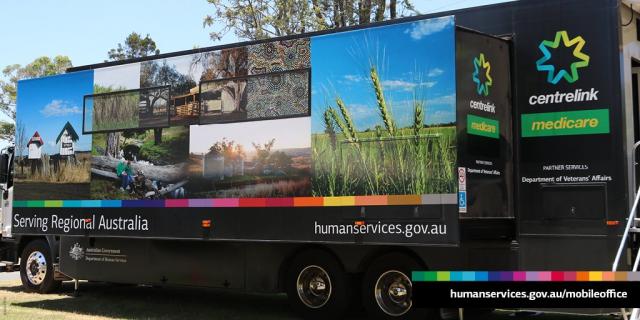 By Callum Ludwig
Services Australia's 'Golden Wattle' Mobile Service Centre is travelling through Warburton and Healesville from Tuesday 24 May to Friday 27 May, helping Yarra Ranges residents get access to services they are entitled to.
The Mobile Service Centres travel to rural and regional Australia to assist with Centrelink, Medicare or Department of Veterans' Affairs(DVA) related questions, having helped over 5400 communities and close to 170,000 people since their introduction in 2006.
Mobile Service Centre Manager Tricia Florent said the fleet aims to provide face-to-face access to government payments and services residents wouldn't otherwise be able to access.
"My team onboard The Golden Wattle are really looking forward to visiting Healesville, Marysville and Warburton to help locals with their Centrelink and Medicare enquiries along with supporting access to online services," she said.
"We can also provide information about Department of Veterans' Affairs programs and support services."
The Mobile Service Centre will be able to help residents keep their information and account up to date and with most claims for Centrelink payments. They can inform residents on Medicare transactions and registrations, social work support, rural payments entitlements for farmers, and how financial matters may impact the payment and service options suited for their needs.
Ms Florent said she feels so lucky to be a part of such an incredible team.
"Working with rural and regional customers is at the heart of what we do. Recently, I helped an 82-year-old customer access his COVID-19 Digital Certificate on his phone. It's so rewarding helping customers in this way, and I feel particularly proud empowering our customers to use online services," she said.
"Golden Wattle is equipped with the latest technology, like self-service facilities, a private interview room, full wireless IT connectivity and wheelchair access. You get access to the same services as are provided from any Service Centre in Australia—in one handy portable location."
They will also be able to support veterans in registering for a DVA account, lodging DVA forms and documents and connecting with the DVA and their support services such as Open Arms.
The Mobile Service Centre will be situated in the Coronation Park car park on River Street, Healesville on Monday 24 and Tuesday 25 May from 9am to 4pm and will be located opposite the Service Station on the Warburton Highway in Warburton 9am to 3.30pm on Friday 27 May.