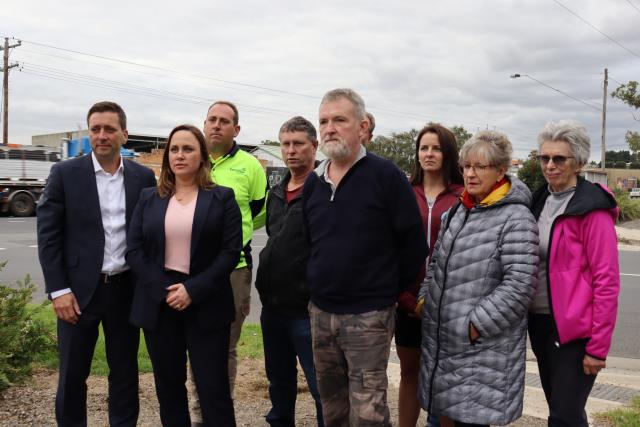 By Mikayla van Loon
Residents of Coldstream met at the intersection of Station Street and Killara Road on Tuesday 12 April to continue the campaign for upgrades along Maroondah Highway.
The State government received $20 million in the 2019 federal budget but residents are still waiting for movement on the project.
Frustrated and angered by the lack of action to even begin consulting with local residents and key stakeholders like the Coldstream CFA brigade, residents would like to see the funds put to use.
Coldstream resident of 12 years Kevin Ryan said Maroondah Highway can have up to 17,000 cars, trucks and motorbikes on it every day and it has been getting busier.
"I've seen that many accidents and near misses," he said.
The Department of Transport (DoT) said it has been working closely with local and federal governments to improve the conditions of Maroondah Highway and make it safe for all road users including pedestrians.
"We're continuing our investigation into options for upgrades along the section of Maroondah Highway between Melba Highway and Ingram Road in Coldstream," a DoT spokesperson said.
"This investigation is considering upgrades that will both ease congestion and improve safety along the route."
With the land sales at the new development, Coldstream Views, residents are concerned about the increase in cars on their roads and the access the estate will have.
"There won't be any houses, they're all units and the only way for them at the moment to get out is down Killara Road," Mr Ryan said.
For Coldstream CFA captain Sean Bethall the lack of infrastructure to support emergency services needing to respond to jobs can mean dangerous close calls for crews exiting Killara Road.
"Even when we've got red and blue lights going we have difficulties where we've got to be quite abrupt in trying to get out because otherwise the traffic thinks we're giving way to them and they just keep going. So it is very hard as an emergency service to get out," he said.
Mr Bethall said the land has been available for duplication since the 1980s but nothing has happened to go about widening the road.
"Over the last 10 years it's probably been more evident that the traffic's getting heavier and harder to get out," he said.
The current status of the upgrades are 'in planning' with an expected completion date of late 2025 but Mr Bethall said he was concerned that no community consultation had yet been undertaken, particularly with emergency services.
According to the DoT, the community will be informed of any investigation outcomes when the designs are finalised and a community engagement process will begin in coming months prior to pre-construction.
This renewed fight for the road widening was spurred on by a visit from opposition leader Matthew Guy while he was attending other locations across the Yarra Ranges.
"Nowadays Coldstream's the edge of the city, it's not really Lilydale anymore and you've got country town infrastructure for what is now the end of the metropolitan area in many ways and as a consequence, this is the result," he said.
Mr Bethall and Mr Ryan said duplication of the road is essential to creating safer conditions but light signalisation would control the traffic through that main section.
"That would mean our response time would be quicker and also the safety of our trucks going across the highway would be ensured," Mr Bethall said.
"It's only a matter of time until someone does get hit which would be sad to see and unfortunate but we need to get that safety upgrade."