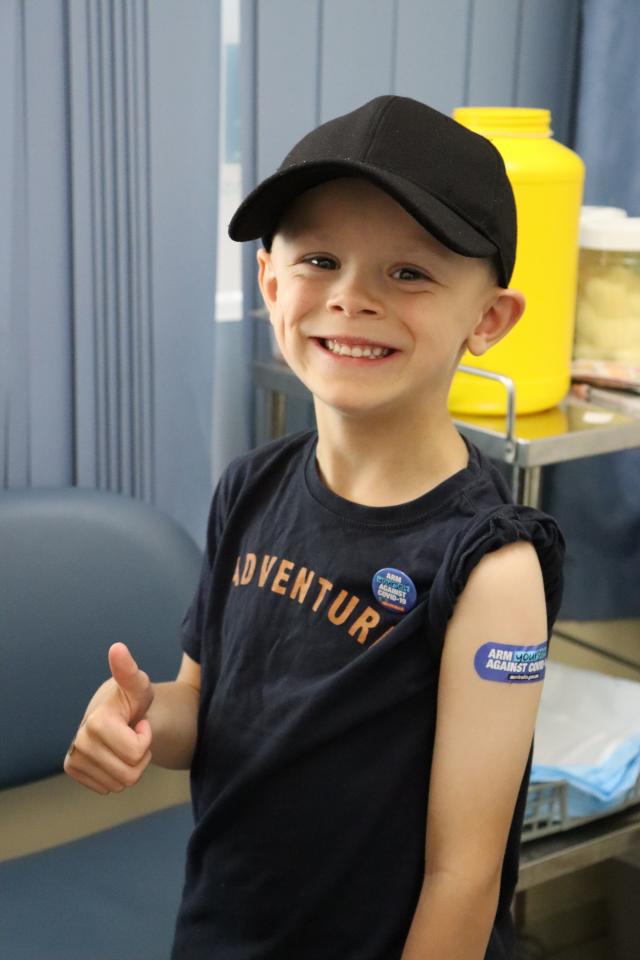 By Renee Wood
Five year old Aiden Jakobs from Yarra Junction was one of the first children to receive an immunisation today at the Yarra Valley Clinic.
The GP in Healesville begun administering Covid-19 vaccinations to children aged five to 11 today following the roll out beginning on Monday 10 January.
Aiden's mum Dannielle said she was grateful he could now receive the vaccine after going through cancer treatment last year.
"He only finished chemo a month and a half ago, so his immune system's still quite low, and his oncologist said this would help a lot," Ms Jakobs said.
"He actually said he wanted to get it done, I gave him the option."
Ms Jakobs is also pleased Aiden could receive the jab before beginning his first year of school.
"I was glad that was a possibility because I think if kids are vaccinated, they'll be able to go and not start his school homeschooling.
"Hopefully he can get the next one done as soon as possible as well and then a third because of his immune system."
Clinic practice manager Ms Redshaw said many parents are making bookings for children before they head back to school for extra protection against the virus.
"We still have availability from the 24th of January," Ms Redshaw said.
Ms Redshaw said the clinic secured a supply of 100 doses of the children's Pfizer dose when it was announced.
Going forward the clinic has booked out Monday and Friday afternoons for children Pfizer vaccinations.
"We're still doing first and second vaccinations, then boosters and now children, so we've separated them from the adult vaccination clinics," Ms Redshaw said.
The clinic started receiving inquiries when the date for the roll out was set last month.
"We weren't sure of the supply getting here on the date that the government said we could start, so rather than booking people in we took their names and contacted them once we knew we had the supply."