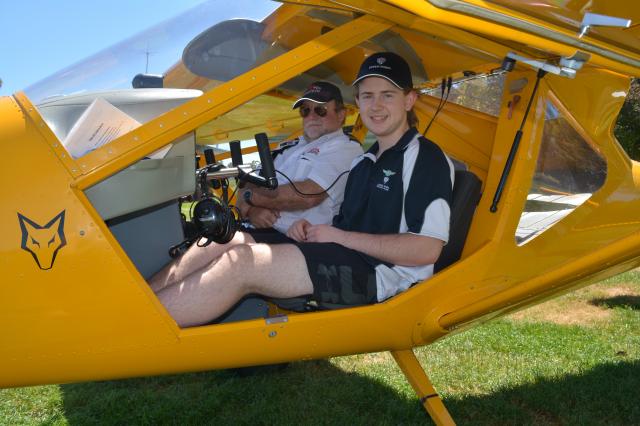 By Renee Wood
A unique opportunity has been provided to Upper Yarra Secondary College aviation students to take part in an introductory flight lesson for the first time.
The experience was made possible thanks to a sponsorship by community member Steve Atkinson from Atkinson Financial Planning who's also getting his wings through the Lilydale Flying School in Yering.
Some eight students participated in the day on Tuesday 30 November, who are all currently completing or have recently finished their Cert III in Aviation (Remote Pilot Licence – RePL) through the school.
Year 11 student Kiara Zekas said the opportunity was incredible and it has encouraged her interest in aviation as a career.
"I got to explore using all of the controls, I learnt a lot about how the plane actually flies with the instructor. We got to see Coldstream and Healesville and see all of the Dandenong Ranges – it was really cool," she said.
Year 11 student Damon Trengrove also enjoyed seeing from a bird's eye view.
"You get an entirely new perspective on everything because everything just looks so small, and you can see so much more than on the ground," he said.
Flight instructor Graham Bunn said the students were in the sky flying an Aeroprakt Vixen training aeroplane for roughly 30 minutes.
"We show them some basic stuff about how to fly and give them a chance to operate the controls under instruction," he said.
"We demonstrate the effect of moving the controls and the airplane's response, it's all very gentle and we give them a chance to do it with us hands off – they get to feel the aeroplane themselves."
It's a step up from their general studies, with the course focussed on flying DJI Phantom 4 Drones, to refine their flying skills and gain Aviation knowledge.
The experience has heightened their knowledge on aviation and has helped to push their dream careers to greater heights.
Year 10 student Benson Simmons said it was a great experience because he's interested in studying aeronautical engineering.
"I'm more of a hands on person, so I wanted to do something with planes or drones," he said.
The school has offered the course as a VCE unit since 2017 and teacher Marcus Cook said the students become registered drone flyers.
"The school is committed to providing relevant opportunities for students that are for now," he said.
"Some of the flights we do with the drone is all about autonomous mapping and using technology that allows you to do that, and there's a few companies like postal and a medicinal company that deliver medicine in South Africa by using autonomous drones just from an office building. So that's the type of technology we're trying to push on to the students."
Damon joined the drone studies because he felt it could open up many doors for different career pathways, with trades, real estate, military and the police force all using drones.
"The main thing was just the opportunity that aviation can provide, we are the only school in Victoria that does this so if there is a chance to do something as interesting and as unique as this then you may as well go straight for it, because there is a lot of things you can do if you can fly a drone," he said.
Kiara said, "It is really interesting learning about the science part of flying but also getting to actually fly drones as well. So you get to see it firsthand."