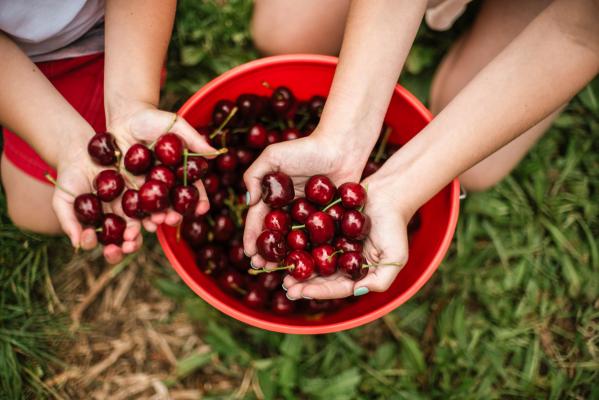 By Renee Wood
Upper Yarra residents keen for a cherry picking experience this summer can enjoy a new partnership between Rochford Wines and Cherry Hill Orchard.
Cherry Hill Orchard is celebrating the opening of its Coldstream orchard by joining Rochford Wines for a midweek dining date.
Vanessa Tang from Cherry Hill Orchard said the locality of each provider helped to serve up a delicious lunch time offering.
"Our second cherry-picking orchard is located right along on the golden mile of the Yarra Valley and that means we are privileged to be surrounded by the best wineries. To celebrate that, we thought there's no better way for our guests to enjoy a day out cherry-picking in the Yarra Valley than packaging it with some good food and wine," she said.
The service first starts with a wine tasting at Rochford, followed by a two course lunch and then customers can head over to the cherry orchard two minutes up the road for an hour of picking a box of cherries right from the tree.
It's also created to target midweek bookings to provide a boost to the businesses who've been shut due to the pandemic.
"After what almost felt like a year of lockdown, Melburnians are ready to head out to enjoy what the region has to offer, and we see lots of families booking up tickets quickly."
The new orchard is also allowing the 'you pick' sessions to start early with the Wandin site usually opening from late November.
"The 100-acre orchard also means there's double the space and cherries for picking. This year we have a nice medium crop, with our early varieties ready for picking now, and as we head into December, we will have thousands of cherries ripe for picking during the peak of our season.
"Cherry-picking is one of the family-favourite things to do during an Australian summer! It's the joy of celebrating the arrival of warmer months, packing a picnic, taking in the views of the Yarra Ranges and having fun picking the biggest, sweetest cherries straight from the tree; and everyone always goes home with our ever-popular cherry ice-cream in hand.
The lunches are available until the 23 December but the producers are continuing to team up with pop up wine tastings to be held in the orchards.
"This allows CherryHill's guests to experience a taste of the best of Yarra Valley even if they had not booked in for the mid-week Rochford lunch offer or if CherryHill was their only destination in the region. Likewise, it is also a great opportunity for Rochford customers to learn about the new CherryHill Coldstream cherry picking orchard."