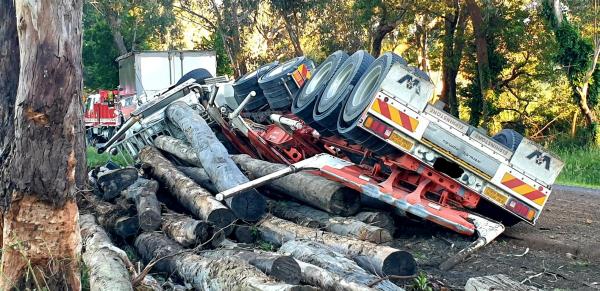 A truck driver has been taken to hospital with upper body injuries after a truck rollover in Launching Place.
Emergency crews were called to reports of a traffic incident on Dalry Road around 6.10am this morning, where a truck carrying logs had tipped.
Ambulance Victoria, Hillcrest, Wandin and Yarra Juncion Fire Brigades attended the incident and members of the public assisted the driver prior to their arrival.
Hillcrest Fire Brigade said, "Members of the public provided assistance to the driver prior to emergency services crews arriving on scene including traffic control on a blind corner – so a big thank you to each of you who helped out this morning."
The man in his 60's was taken to Box Hill Hospital in a stable condition.
Heavy haulage was required to retrieve the truck and jinker and there is some damage to the road surface, which local council are assessing.
Crews will remain on scene until the area is safe for traffic and the debris has been removed.