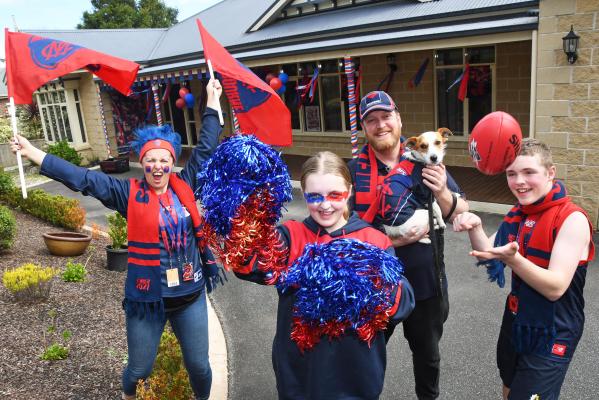 By Renee Wood
AFL fans are wearing their colours with pride in the lead up to the Grand Final, decorating houses and themselves in team colours throughout the region.
One family who's out to impress is the Aulich home in Don Valley, as the red and blue display for the Dees can be seen loudly.
Keen Melbourne fans, Catherine and Derry Aulich, always decorate their house but this year more than ever they wanted to do something special during a time of restrictions.
"You can't go stressing yourself out about things that are out of your control, except to make the best of it, and that's why we wanted to decorate the house and get the kids excited, to try and be a part of that lead up and build it up from the resources that we've got," Catherine said.
They'll be joining friends on zoom for the game, something that's become a weekly ritual.
"It's all about the footy food, the hotdogs, the pies, sausage rolls, and then setting the zoom meeting up and jumping on with all of our family and friends and other supporters to have our own Grand Final party in isolation style," Derry said.
"We're in challenging times with Covid so we have been setting up Zooms while we've had the games on, and actually sit there with the TV on, and the laptop set up with our families and friends all in the meeting watching together."
Although Zoom's providing an opportunity for families to get together to watch the game, it's not how Melbourne supporters would like to witness their first chance at a premiership flag in decades.
"It's one of those devastating things, we've been waiting since the 60s to see another Premiership and so for fans to basically be relegated to the couch and not be able to take up a seat at the stands, I really feel for the members that have been waiting for so long," Catherine said.
Catherine was one of many supporters who were quietly confident at the start of the year, all hopeful this will be their chance to break the premiership drought after years of building up to this point.
"I actually put money on it at the start of the year, so I'm hoping that's gonna pay some dividends.
"We did come quite close a couple of years back, we made it into the prelim final where we had to travel over and play the Eagles and they absolutely thrashed us, and that was really heartbreaking. We were probably lucky to get through to that prelim but probably at that point we were a few years off.
"You don't get yourself into a grand final overnight you have to build your team, build your momentum to get that far. So I definitely feel like it's our time now."
It's looking like a well matched game between Melbourne and the Bulldogs following the prelim finals where Melbourne defeated Geelong by a whopping thirteen goals and the Bulldogs defeated Port Adelaide in a similar fashion, 11 goals up.
"I think the two best teams in the competition have made it through this year, which is really nice to see and it's definitely set to hopefully be a good, close, tight game."