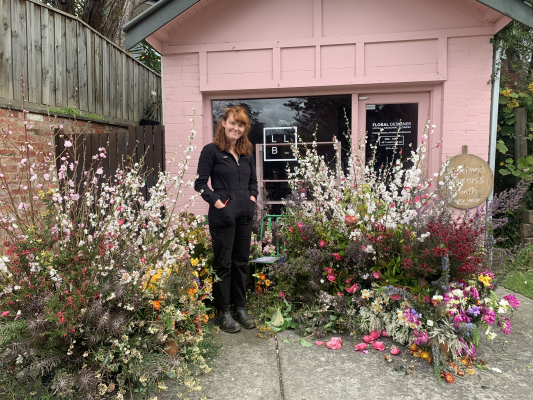 By Renee Wood
Healesville florist Rebecca Noble has used her talents to spread awareness and start a conversation around Alzheimer's Disease.
Ms Nobel set up a large display at the front of her studio on Maroondah Highway in Healesville Sunday 5 September to recognise the beginning of Alzheimer's Awareness Month.
It's a cause close to her heart as her grandfather had Luwy Body Dementia.
"I think there are a lot of people affected by it without us really realising it, I bet you would know somebody who knows somebody who's had dementia or Alzheimer's," Ms Noble said.
Passer-bys were encouraged to take a moment and sit down among the blooms and write down a memory or dementia experience in a provided book.
Ms Noble hopes to then share the community's reflections through social media to continue the discussion.
"By creating this piece I wanted to share beauty with the community but also I have created a space where people can sit down and reflect about their memories and how important they are to them.
"We spend our whole lives, collecting memories and it seems so cruel that that those are taken away from some people."
People of various ages can be diagnosed with the progressive form of dementia, affecting their memory, thinking and behaviour.
Monvale Flowers donated some blooms in support of the cause, with flowers being the perfect medium to draw out recollections.
"I think flowers tend to hold a lot of memories for people. There are flowers that become very significant for people, whether they have been chosen for a loved one's funeral, or whether they got married with a certain type of flower, there are always memories attached and significance attached to flowers."
Ms Noble also started a fundraiser with Dementia Australia to raise donations for support services for people living with dementia, their families and carers.
For more information visit https://fundraising.dementia.org.au/fundraisers/rebeccanoble