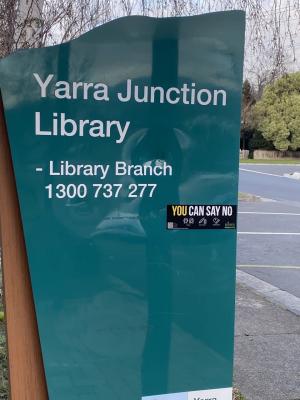 By Jed Lanyon
A small Yarra Ranges anti-vax group met at Lillydale Lake on Sunday 11 July with the aim of distributing stickers with anti-vaccine messaging.
The stickers have been found in public areas recently as Yarra Junction Library staff were alerted to them appearing on their signage last week, while they were also spotted at a location along the Warburton Trail.
The stickers read, "You can say no" to face masks, vaccinations and Covid tests. Others read, "This sticker was harder to remove than your bodily autonomy and civil liberties were" and referred to vaccines as "gene altering".
The group, which uses an encrypted messaging app, planned to distribute 1500 of the stickers at the Lillydale Lake meeting.
A spokesperson from the Department of Health encouraged residents to rely on reputable sources of information when it comes to vaccinations.
"The Australian Government is a strong supporter of immunisation, as it is a safe and effective way to prevent the spread of many diseases in the community that can cause hospitalisation, serious ongoing health conditions, or even death.
"The Department of Health regularly promotes evidenced-based information about vaccinations. Australians are encouraged to rely on reputable sources of information such as health.gov.au to help them make informed choices and stay up to date."
This comes as a list of Melbourne businesses circulated informing members across the state of which locations to boycott for simply adhering to the state's QR check-in and mask rules upon entry.
The list features several Yarra Ranges businesses including several from Emerald, Ferntree Gully, Belgrave, Coldstream, Kilsyth and Lilydale. They are rated from a scale of 1-5 and listed as either good, bad or ugly.