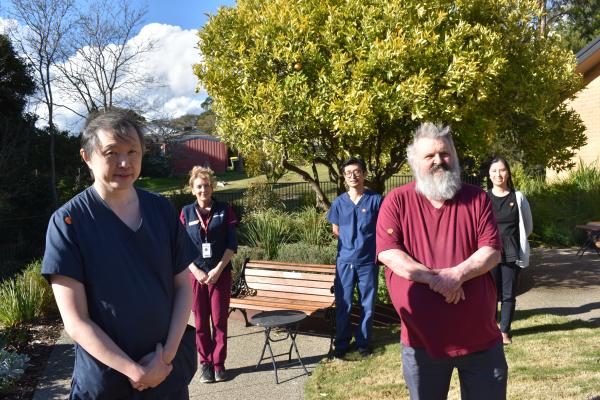 By Jed Lanyon
Healesville Hospital now boasts a dermatology clinic service in a boost for public healthcare for the Yarra Valley.
Eastern Health received funding to provide the service to outer east residents in a bid to ease expensive and limited dermatology services.
For Healesville resident Ashley Groome, it means he no longer has to travel to Box Hill to see his dermatologist to manage and medicate his skin conditions.
Mr Groome was treated for cancer some years ago and still requires weekly dressings to his foot after developing a skin condition from his treatment, as well as receiving a check-up every six weeks.
Mr Groome shared how grateful he is to be able to use the service, which has been in operation for about a month.
"There's the obvious benefit of the simple convenience of it. But in my case, when you're covered in blisters and you're not feeling terribly well, not having to drive all the way into Box Hill is a great blessing.
"Box Hill is a very large hospital. And when you're not feeling well and you're in a totally unfamiliar environment, it is really quite daunting.
"Then you've got to get through the process of getting back home again. It's bad enough if you have to drive, but I can't imagine what it'd be like having to catch public transport.
Dermatologist Dr John Su has been working from the Healesville clinic.
"Currently there aren't any services for dermatology closer than Box Hill, so to navigate one's way there does take a lot of time and a lot of people who have gone there have made the comment that it's quite stressful.
"It is much more accessible for local people and it means that we can deliver a range of services that we otherwise can't… There are some treatments that require quite regular visits and then there are some that might be just for every couple of months.
"To make that trip down to the city regularly is really quite untenable.
"We first had the possibility raise about two years ago and it's taken a lot of groundwork to structure, especially given in a climate where resources are limited and being a relatively small specialty, even though skin disease is one of the most common things that does interfere with quality of life."
Dr Su said it's the first public dermatology clinic accessible in rural Victoria.
Services for Healesville Hospital Action Group (SHHAG) had campaigned to see a dermatology outpatient clinic at Healesville Hospital.
SHHAG's chairperson, Jane Judd, and deputy chairperson and Yarra Ranges Council Mayor, Fiona McAllister, penned a letter to Eastern Health and requested a video meeting following a "groundswell of support" for the initiative late last year.
The letter noted that the Yarra Ranges has elevated skin cancer rates due to the rural outdoors environment of work and recreation for a substantial proportion of the local population.
Cr McAllister said the provision of dermatological services at the hospital was "great news".
"Our push for these services started with one voice from the community who contacted SHHAG asking for our help. With a skin condition requiring very regular treatment it meant hours and days travelling down the line to see specialists at Box Hill.
"As you can imagine this was taking its toll and after finding out via Facebook that many others were doing the same, we reached out to Eastern Health. The commencement of a dermatology clinic at Healesville Hospital is another wonderful outcome for the community."
SHHAG, formerly known as 'Save Healesville Hospital Action Group' has long been campaigning for the hospital to offer the medical services that will best serve the community.