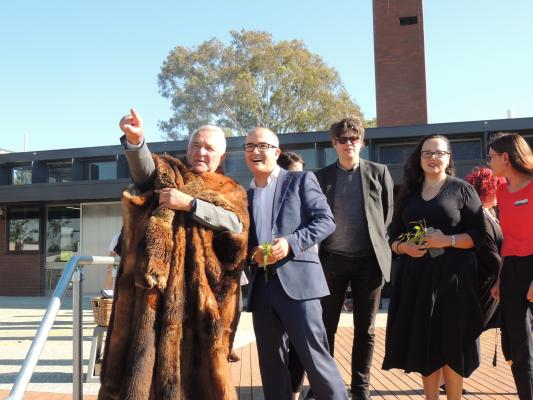 By Mikayla Van Loon
New facilities were officially opened at Lilydale Heights College on Friday 30 April as part of the Lilydale District and Yarra Valley Education Plan.
Six secondary schools will receive much needed upgrades under the $56.3 million project.
Students and principals from each of the six schools, those being Lilydale High School, Upper Yarra Secondary College, Healesville High School, Mooroolbark College and Yarra Hills Secondary College, gathered to unveil the new facilities.
Lilydale Heights College used its stage one funding to upgrade a building with the vision of being more sustainable.
The new sustainable learning hub has been designed with recycled materials, exposed fixtures and solar panels, as well as a new community garden.
Other areas that received improvements were the town square, canteen and staff room, along with a brand new gym.
Education minister James Merlino and member for Eastern Victoria Harriet Shing, visited the school for a tour of the new facilities.
"The sustainability building, we were just marvelling at the design and everything [being] exposed and there to create a sense of curiosity and questioning of students that work through that," Mr Merlino said.
Mr Merlino congratulated the six school principals for their dedication to providing excellent education and support to students, both within their direct school community and outside of it.
"New facilities do make a difference, in terms of how students feel about being at school, how easy it is to learn, how easy it is to teach," he said.
"You go in that sustainability building and you absolutely see through design and construction how easy it is for science teachers and other teachers to teach their subjects and engage their students."
Not only did Mr Merlio go to marvel at the new features at Lilydale Heights College but he announced a new four year Collaborative Indigenous Strategy which aims to make each of the six schools more culturally inclusive.
With the help of indigenous elder Murrindindi, a traditional welcome to country was performed by way of a smoking ceremony.
"[The indigenous strategy] was really the catalyst for the change from the original three schools to the six participating," Mr Merlino said.
"It paves the way for local schools to achieve the vision of the Marrung Education Plan and that's a vision of schools celebrating the rich and thriving culture, knowledge and experience of First Nations people."
The strategy aims to increase Koorie student participation in school and get them to achieve a Year 12 certificate.
Murrindindi told the story of Bunjil the Eagle and how he created earth. This is now depicted in the ground of the town square at Lilydale Heights College, celebrating Koorie heritage.
"Murrindindi you were talking about the cultural history of this place, that prior to the work around the town square and the story that is told, students, families, teachers did not know about it and I just think that is so wonderful," Mr Merlio said.
Student representatives and a First Nations Advocate have been appointed at each school.
Indigenous representatives from each of the schools were presented with a Coolamon which is a vessel that holds the culture and knowledge of the school communities and also a message stick, that gives permission to share that knowledge.