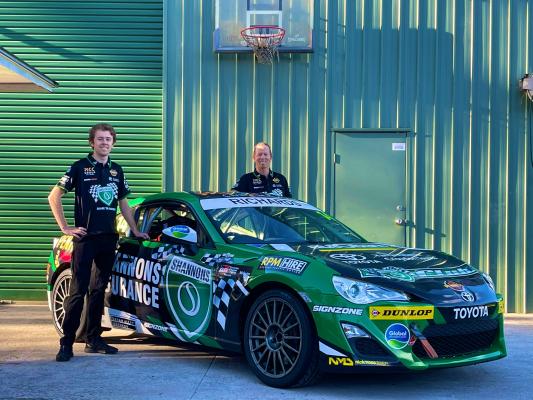 He may be taking the Richards' surname into its third generation of racing, but Coldstream's Clay Richards is determined to make his own mark in the professional racing industry.
The son of five-time Bathurst winner Steven Richards and grandson of touring car legend Jim will make his professional racing debut on February 26, 27 and 28, tackling mighty Mount Panorama as part of the Supercars season opener, the Bathurst 500.
The 20-year-old youngster will take on the world-famous track as part of the Toyota Gazoo Racing Australia 86 Series, a "grassroots" support category for the 2021 Supercars Championship.
The Star Mail recently caught up with the Richards family before they headed off to Bathurst.
"I've never raced Bathurst before so it is very exciting, I'm also very nervous. There's a little bit of pressure but not too much," Clay said.
"A lot of people get caught out at Bathurst, you make one little mistake and it could be all over. If we could get through all sessions fairly unscathed then that's a good weekend," he said.
Clay said his goal for the weekend is to "just get through it, finish all the sessions and learn a bit as well".
The Toyota Gazoo 86 Series is designed as an affordable entry-level series that provides the "perfect development environment" for drivers.
"It's a grassroots series that lets young drivers like myself make their mark on Australian motorsport. Each race they invite professional racers, like Supercar drivers, to come on board and teach all us young guys about race craft and race with us on track. It's a great chance to put your name out there," Clay said.
All competitors drive a near identical Toyota 86, modified with a high performance race package that can have them out on the track for about $50,000 including the cost of the original car.
Clay revealed his livery last week, wrapped to perfection by SignZone in Lilydale and complete with his Yarra Valley and Croydon Toyota sponsor plastered across the bonnet.
"It's a really cool car, it's got ABS which means you don't lock front or rear brakes. Toyota has done really well supporting us young drivers and they are a really fun car to drive," Clay said.
The weekends race marks the beginning of a career Clay has been working towards his whole life.
"As far as I can remember I've always had an interest in racing and what Dad and Grandpa did. The earliest memory I probably have is Bathurst 2004 and the next Bathurst 2007," he said.
"Dad got me a go-kart when I was around 11 and we just went for a couple of test days. It wasn't until I was 14 that I started my first race at Gippsland go-kart club and ever since then I've been hooked."
Clay raced karts until he was 19 before stepping up to the single seater, open-wheel Formula Ford series – however, Covid-19 was quick to put the brakes on that.
The Toyota Gazoo Racing Australia 86 Series is set to be Clay's first full racing season.
This weekends race will be Clay's first time racing the tin-top car, other than two test days with his Dad at Challenge Bathurst in November last year.
While Clay admits his surname carries "some expectations", he refuses to let the pressure get to him.
"I don't really feel any pressure. I just go out on track and always do the best I can, that's all I can do. People will have expectations no doubt but it doesn't bother me at all," he said.
His dad's advice – "keep it off the walls, try not to crash the car".
"I've learnt most of my race-craft from Dad. He said the most important thing was to keep learning each session, if you can move forward from your starting position then that's good," Clay said.
When asked how it feels to step out of the hot-seat and instead cheer from the garage, dad Steven said he is comforted by the fact that Clay makes "good decisions when he is out on his own".
"You always worry because anything can happen but he is making good decisions. His first race at Phillip Island in the Formula Ford, it started to rain, and he had never driven in the wet before so I thought, 'here we go'," he laughed.
"You just feel really proud of the fact he's doing it and has wanted to do it. There's no doubt he had lived and breathed it since he was born, so it was probably a bit premature to think he wasn't going to go in that direction.
"There's no doubt that if you grow up involved you naturally take things on, and I was the same, just because you're around it all the time," Steven said.
While Clay's out tearing up the track this season, dad Steven will be busy communicating with his son through the radio, conveying messages from race-control and during breaks, he'll be found throwing spanners to make sure the car is mechanically perfect.
"Now I'm so busy from the other side during the time he is on track that you don't really have time to think about it, there's so much going on. I'm concentrating on communication or anything seen on TV that might help and if there are any issues with the car, I talk him through it and help us get to the end of the race," Steven said.