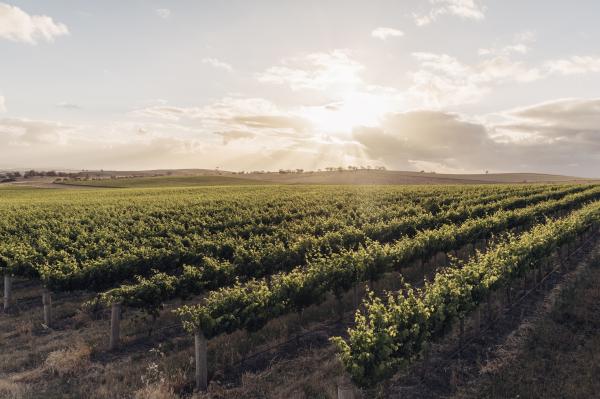 A new resource has been developed to help Yarra Valley wine producers plan for the localised effects of climate change over the next 80 years.
Developed by the University of Tasmania's Climate Futures Group, and funded by Wine Australia, Australia's Wine Future: A Climate Atlas describes short and long term trends for Australian wine regions until 2100.
The Climate Atlas has been tailored for individual regions, such as the Yarra Valley, with a focus on important climate factors that influence wine production.
These included heat accumulation and aridity, and the likelihood of heatwave and frost.
Lead author Dr Tom Remenyi said the Yarra Valley was projected to face "challenges with a warming and drying climate" but also produce "great wines for quite some time."
"The Yarra Valley is a diverse area, there's the warmer western side and the cooler eastern side," he said.
"It's going to warm to the point where it will be similar to Pemberton by about 2060 and Margaret River by about 2100."
The Climate Atlas was produced from some of the most sophisticated climate modelling outputs available.
Dr Remenyi said the Yarra Valley had the highest resolution available in the country, due to its location within Victoria.
"The way the model works, we had to select a particular region which was our centre point and Victoria was a sensible centre point," he said.
Climate Futures Group lead and University of Tasmania climatology expert Dr Rebecca Harris said the project would provide detailed climate predictions in an accessible and useful form.
"The aim was to improve understanding of climate information and to empower communities to plan for the coming season and for the future," she said.
"The project identified weather risks that are particularly important to grape-growing within different wine regions and assessed future changes in their frequency and intensity based on regional climate models."
The Climate Atlas also indicated which regions around the country currently hosted similar conditions to those projected in 2100.
It is understood this will allow growers and wineries to look to their peers and viticultural experts for ideas on how to adapt for the future.
When asked if he was confident the wine industry could adapt to climate change, Dr Remenyi said it was in a "better position than most" due to an extensive amount of knowledge and education.
"It's been on the front foot of this for a long time and there are plenty of people aware of the changes that have occurred," he said.
"One of the key advantages of the Australian industry, compared to others, is that it already exists in a highly variable climate. Growers have had to develop a large toolbox to handle those differences.
"Climate change is going to require us to evolve but given a lot of those tools are already there, the capability is there."
Dr Remenyi added that a surprising finding in the research was the impact climate change would have on the wine industry's ability to employ outside workers.
"As temperatures increase there is going to be an increasing number of days greater than 30 or 40 degrees. But one of the key elements is the number of days where there is high humidity and temperature," he said.
"At present, the Yarra Valley experiences about 10 days a year where there is a severe risk to humans to work outside.
"That's set to increase substantially in the future to more like 20 to 40 days of the year, where you won't be able to work outside safety without some significant adjustment."
Australia's Wine Future: A Climate Atlas is available for download at www.wineaustralia.com/climate-atlas.