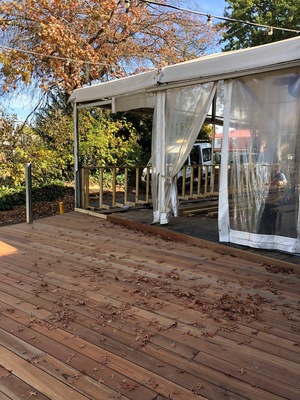 As the Covid-19 lockdowns continue, the pandemic has us thirsting for a beer with our mates down at the local, while some will never again take for granted the ability to drink a cold one on tap again.
But as the Victorian Government announced there will be no changes to the restrictions placed on cafes and restaurants for May, that scenario remains out of grasp. But the Yarra Valley Grand Hotel is making the most of their forced closure by starting minor renovations of the 132 year old hotel.
When Yarra Glen locals finally get the opportunity to return to their local, they'll have the added experience of enjoying the hotel's new outdoor space and front bar.
Yarra Valley Grand Hotel owner Craig Barnett said works started three weeks ago to refurbish the venue.
"It's all just stuff that we needed to do, so we're taking the opportunity to get it done while we are shut."
Changes include a complete replacement of old decking, improvements to a marquee, replacement of blinds, installing new carpets and other maintenance issues.
Mr Barnett said that locals had been missing the hotel, reaching out on socials and calling the venue.
"Our slogan here is 'love your local', and we just can't wait to see you all back soon," he said.
"You miss the camaraderie, you miss the relationships you've got with the local community and especially the sporting community.
The Yarra Valley Grand Hotel sponsors the Yarra Glen Football and Netball Club as well as the Bowls Club and Tennis Club.
"It's going to be nice and fresh when we reopen and all the locals will notice the changes."
While the Yarra Valley Hotel is temporarily shut, residents can still support their local as Carlton and United Breweries and the Australian Hotels Association have teamed up to help Australian pubs and clubs survive the coronavirus crisis.
For the Love of Your Local campaign is calling on Australians to visit www.loveofyourlocal.com.au then nominate their participating local and buy a pint of CUB beer. The cash goes to the venue immediately.
Carlton and United Breweries then matches that purchase with a free pint, meaning people get two for one pints when their local re-opens.
CUB CEO Peter Filipovic said, "This campaign is a win-win for pubs and clubs and for beer lovers."