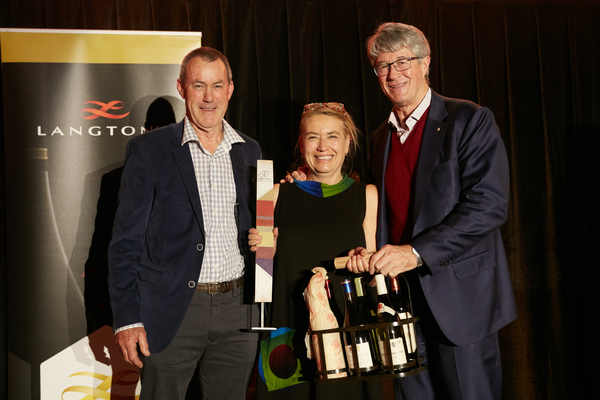 Coldstream's Squitchy Lane winery has raked in four trophies at the Langton's Yarra Valley Wine Show on Thursday 12 September.
The awards night recognises and celebrates some of the best wine producers in the Yarra Valley.
Squitchy Lane walked away with recognition as Champion Wine of Show for their Squitchy Lane Cabernet Sauvignon 2018.
This wine also won Best Cabernet Sauvignon, Best Single Vineyard Red Wine and Best Red Wine in Show.
Giant Steps were awarded Most Successful Exhibitor for the second year in a row.
The Healesville winery Received trophies for Best Cabernet Varieties and Blends as well as Best Shiraz for their Harry's Monster 2018 and their Tarraford Vineyard Syrah 2018, respectively.
This was on top of their four gold medal wines.
The trophies for Best Chardonnay, Best Single Vineyard White Wine and Best White Wine in Show were all awarded to Oakridge Wines for their 864 Funder and Diamond Chardonnay 2017.
Tim Shand accepted the Best Pinot Noir trophy for the Punt Road Wines Monopole Napoleone Vineyard Pinot Noir 2018.
This wine was made in collaboration with City Wine Shop, allowing for their dedicated staff to further their knowledge in viticulture and winemaking.
The trophy for Best Sparkling was awarded to Coldstream Hills, for their Sparkling Pinot Noir Chardonnay 2015.
Coldstream Hills were also recognised for the Langton's Wines of Provenance award with the 2017, 2011 and 2005 Reserve Chardonnay.
Sarah Crowe winemaker of Yarra Yering, accepted the award for Best Other Single Red Varieties and Blends for the Yarra Yering Dry Red No.3 2018.
The De Bortoli Wines Section A5 Chardonnay 2012 was announced as the Best Museum Wine, while Stefani Estate took out the Best Other Single White Varietal with their Vigna Stefani Arneis 2018.
Chief Judge, Chris Crawford remarked how impressed he was at the calibre of wines entered across all classes, especially Cabernet Sauvignon.
"A terrific variety of styles from the region which displayed balance and intensity," Mr Crawford said.
For more information on the 2019 Langton's Yarra Valley Wine Show and a list of full results, visit: http://wineyarravalley.com.au/