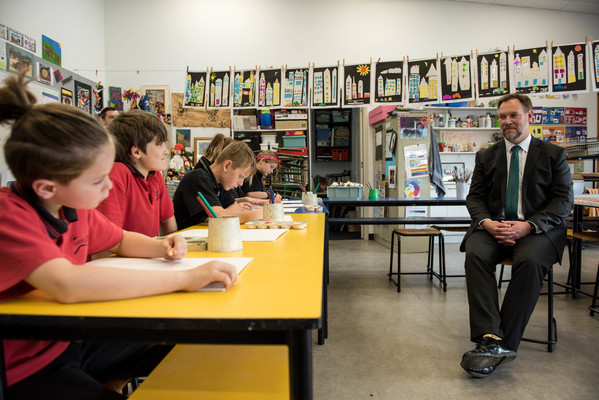 Yarra Glen Primary School students embraced the spirit of Not the Archies by sitting down with Yarra Ranges Mayor Tony Stevenson to paint his portrait.
Two students from each year level took part in the lesson to paint Mr Stevenson while asking him all kinds of questions about his role as the mayor.
The students were quick to notice Mr Stevenson wearing a pair of Richmond socks, which inspired some students to change the colour of his tie to suit their own favourite footy team.
Other students wondered how they would go about painting Mr Stevenson's 'whiskers'.
The upcoming competition calls on Yarra Valley artists to paint or draw a portrait of someone in the community they admire, in a celebration for the return of the Archibald Prize to the TarraWarra Museum of Art.
The students were surprised to learn of the $1000 in prize money on offer for Not the Archies.
One student said they would be buying a lot of skittles with the prize money, while another offered to buy a pair of Collingwood socks in case Mr Stevenson had a change of heart about supporting Richmond.
Some of the other prizes for the competition include an unlimited cinema pass for the 12-17 age category, a $300 voucher for a design class at Box Hill Institute for the emerging artist category.
The under 11 category winner will receive a collection of books from Verso Books and the audience choice winner will receive accommodation and three course dinner at Healesville Hotel
Entrants to Not the Archies pay a fee of $10 for adults or $5 for entrants 17 and under and receive a canvas in a uniform size.
From there, they're asked to paint a portrait of anyone they admire in the community, as long as they live, work or play in the Yarra Ranges.
This year's Not the Archies will have prizes
Submissions are due 30 September. For those wishing to get involved, visit: https://bit.ly/33uhnio
Submitted portraits will be exhibited in a street gallery from 12 October to 15 November.