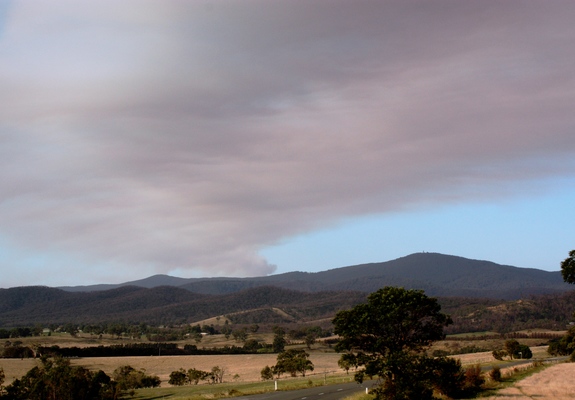 Yarra Ranges Council has provided an update on planned burn offs in the Upper Yarra region through a community newsletter.
The community newsletter has advised that Fire 51 Cambarville Fire Rd 4 is 'under control 2', which means the perimeter is secure and no breakaways are expected.
The fire burnt an area of 2,600 hectares and patrolling remains in place.
Fire 53 Mt Boobyalla Walking Track is 'safe' with no further suppression or patrolling required.
Fire 54 O'Shannassy Catchment Rd 16 is also 'under control 2'.
Recovery is now the focus and is being coordinated by Yarra Ranges Council.
Ten kilometres of the Warburton-Woods Point Road, between Stream Rd, Reefton and Cumberland Junction, Cambarville has been closed due to fire related damage.
VicRoads and their contractors have been working to re-open the road for the Easter period and have now completed hazardous tree removal and 90 per cent of road resurfacing, priority guide post replacement, guard rail replacement and drainage works.
VicRoads aims to open the road by the Easter weekend with speed restrictions in place.
The newsletter states that if weather permits, it is expected the road will operate normally from Friday the 26 April.
Staff from DELWP, Melbourne Water and Parks Victoria and a number of contractors, are working together to undertake rehabilitation works on fire affected public land.
Interim drainage works have been completed on all control lines constructed as part of the fire suppression effort.
Work on control lines will now focus on reinstating the soil profile, additional drainage measures, pulling back vegetation over exposed soil and rehabilitation of stream crossings.
Within the closed Armstrong Creek water catchment, the assessment and treatment of hazardous trees is underway.
The newsletter states that this will enable management vehicles to safely access areas for further rehabilitation works for the purposes of water quality protection, erosion minimisation and catchment monitoring.
Works will include the construction of silt fencing, debris traps, rock armouring and drainage, with an emphasis on stream and gully crossings on roads and pipes.
Longer term recovery works in the fire affected area will consider management of threatened species and monitoring impacts on catchment water quality, vegetation classes and forest production.