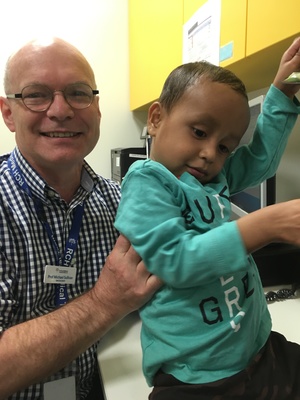 By Michael Doran
Rotary International has an outstanding history for its charitable work and untiring efforts in the fight to eradicate polio globally. In this part of the world it is the Rotary Oceanic Medical Aid for Children (ROMAC) initiative that is saving the lives of seriously ill children from Papua New Guinea, Solomon Islands, Fiji, Timor Leste, Vanuatu and Vietnam.
Wandin Rotary has given those efforts a boost by raising $13,000 from a fundraising night featuring a hypnotist, although there is no link to the amount raised and the audience's state of consciousness.
Wandin Rotarian, Gavin McIntyre, knows firsthand how vital ROMAC's work is from his efforts as Chair of ROMAC for Rotary District 9810. He said that each surgery comes at a cost around $25,000 and his group aims to raise at least $50,000 annually.
"There are no paid people in ROMAC and every dollar we raise is used to fund treatment costs," he said. "We get a quote from the hospital for their charges and that usually comes out around the $25,000 mark.
"The surgeons provide their expertise pro-bono but that's not possible for the publicly funded hospitals. There are also costs from MRI scans and so on that have to be paid for by ROMAC."
Gaspar, a 3 year old from Timor Leste, developed a tumor and when it did not respond to chemotherapy in Dili he came to Melbourne for surgery. It was done at the Royal Children's Hospital and totally funded by donations to ROMAC.
The expenses involved with bringing patients and their carers to Australia, accommodating them with a host-family, transport and so on are met from a separate fund he said.
"We currently have 97 kids on the waiting list for surgery so raising funds is vital. Without ROMAC's help some of the kids on that list will die," he said.
"If children get sick here then we get them treated in some of the best facilities in the world. Hospitals in countries like Timor or the Pacific Islands just don't have the expensive equipment to do what we can do here.
"Also we have to be able to look after the kids when they are here, the interpreters, the daily trips to hospitals and supporting the host families. Everyone involved is a volunteer, not all are Rotarians, and they find it so rewarding to impact lives this way."
Local community organisation, Cire Services, along with Coldstream Primary School, have become the first organisational members of Wandin Rotary. Cire CEO Gus Seremetis said, "We are honoured to have been invited to join Rotary which is such an enormously respected organisation worldwide.
"We already enjoy a great relationship, having partnered in various projects and we greatly look forward to more collaborations in the future to help improve the lives and opportunities for others in our region and beyond."
In joining Rotary, Cire has launched a postal stamp collection drive to support ROMAC and used postage stamps can be donated at the Cire Yarra Junction office.
Asked for a final word, Gavin McIntyre said, "Every dollar donated is going towards saving a child's life. The more donations we get the more kids we can help."