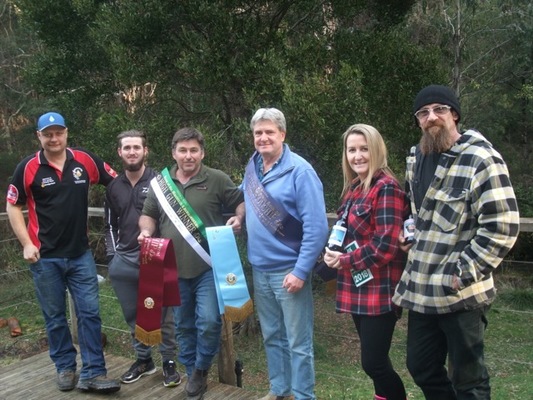 By John Wood
A frosty morning followed by a clear sunny but cool day greeted the competitors for the Woods Point Gun Club's King of the Mountain Championship (KOM).
Members blew the cobwebs out of their guns with the traditional Eye Opener.
Troy Grimes and Mick Ward shared the AA-Grade cash while Allan Kidd, Brendan Grimes and Shane Callahan did the same in A-Grade.
Robert Lay and Tom Apps were respectively sole recipients of the B and C-Grade money.
The first of the KOM championships was 20 targets single barrel, one shot only allowed.
A heavy shadow over the left of the shooting range ensured that no one shot a perfect 20/20 but Mick Ward returned 19/20 to don the sash.
Ward also won the AA-Grade prize, 19/20, with Rob Bevis second on 18/20.
Ken Skinner's 18/20 and Peter West's 17/20 were enough to win A-Grade first and second.
Chuck Lay scratched in B-Grade just ahead of John Wood while the C-Grade honours went to Ron Press, 18/20, Tom Apps 17/20.
New members Justin Broderick, Jodie Stockdale and Damon Geary all shot well for their first competition at Woods Point scoring 16/20, 13/20 and 14/20 respectively.
Next was the 25 targets double barrel points decision KOM championship.
Ward again showed his skill with a perfect 75/75 points to take his second championship sash for the day and AA-Grade prize again.
Junior shooter Troy Grimes took AA-Grade second, 68/75.
Troy's father Brendan won the A-Grade prize with an excellent 74/75, and Peter West second, 68/75.
Lay again won B-Grade, 64/75, from Wood 54/75.
New shooter Damon Geary took C-Grade 64/75 while Mansfield Junior, Sam Bell, shot a good 61/75 to take C-Grade second.
For the last event, 25 targets handicap KOM championship, the shadows cleared but we still didn't get a perfect 25/25 score.
Daniel Chinn and Shane Callahan managed 24/25 each to go into a shoot off for the sash, Callahan winning 30/32 to Chinn's 29/32.
The third and fourth prize places required a shoot-off between Allan Kidd, Troy Grimes, Chris Climas, Brendan Grimes, Damon Geary and Sam Bell, with Geary eventually taking third, 32/34 from Grimes' 32/35.
Mick Ward's final total of 116/120 ensured that he won the KOM High Gun sash.
Jodie Stockdale won the Encouragement Award.
Nest shoot is the Maori Creek Championships and the Jodie Poile Memorial on Sunday 23 September at 10am.