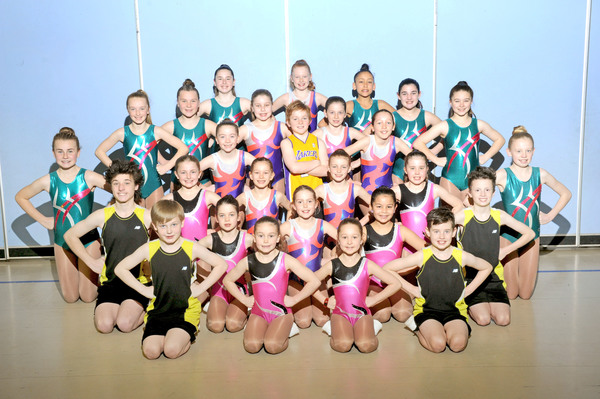 Launching Place Primary sent it largest-ever contingent to the Schoolaerobics National Championships.
The school has competed nationally for the past 10 years but this time had 27 students in four teams successfully reach the competition – including Angus.
The Grade 3 student was born with a deformed skeleton and doctors amputated one of his legs when he was very young.
Bu the nine-year-old hasn't let having a bionic leg stop him from following his four siblings into aerobics.
Teacher Candice Nyman has organised the Launching Place aerobics program since 2008.
"This year the school aerobics introduced the gifted program," she said.
"It's for anyone who has any disabilities.
"Angus did aerobics last year with us, and he was just a part of the team.
"When they introduced this we thought it would be a good opportunity for him."
Ms Nyman taught a solo for the first time to give Angus a shot at an award in the new program.
"He won it in Victoria," she said.
"Now he's on his way to nationals."
The nationals were held on Queensland's Gold Coast on Saturday 25 August.
"Our school has gone for the past 10 years in a row," Ms Nyman said.
"This is the most kids and teams we've ever had get through."
Students at the school can participate in aerobics from Grade 3.
"I just hope that they all go on stage and to their best," she said.
"They've been training really hard so it would be nice to get medals and awards.
"If they do their best performance anything could happen."
Ms Nyman brought aerobics to Yarra Junction from her previous school.
"When I came here our school didn't have any activities like that," she said.
"It gave kids something to do at recess and lunch time."
A huge proportion of the 230-pupil school takes part.
"I think it's being part of a team and belonging to something, and also working towards something," she said.
"Some of our kids are really flexible but it's something they've had to really work to achieve."
There's also plenty of team work involved in ensuring the team's movements are synchronised.
"Our school, it's almost like a culture in the school," she said.
"We have kids in Prep that come and watch at recess and lunch time."
Dedication from Ms Nyman and fellow teachers Lara Mackie and Jacinta Kemp is a big part of their success.
"We all give up our recesses and lunch times every day, and even before school," Ms Nyman said.
"We'd love to see it in the high schools nearby so the kids can continue with it."
We'll bring you the results as soon as they're available.