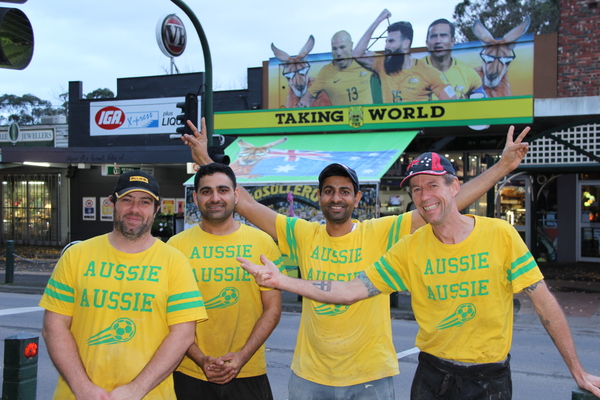 By Kath Gannaway
The backroom boys at Wild Grains Bakery in Healesville have left no doubt where their allegiances are as Australia's Socceroos travelled to Russia for their first World Cup match.
Owner and Healesville Soccer Club member Joe, shared his passion with the town in the lead up to the world event.
"I just wanted to do something beautiful for something I'm passionate about," he said of the yellow and gold extravaganza of support that has blanketed the bakery façade for the past month.
"It might even give us a few good vibes and we might win some of the games over there," he added.
Healesville Soccer Club members, a 'united nations' of players from several countries, gathered at the club's rooms for the big first match against France on Saturday night.
Although they went down by 2 to 1 to France, The Wild Grains team, and Healesville Soccer Club will be hoping they can rise to the occasion as they face Denmark on 21 June and Peru on 27 June.