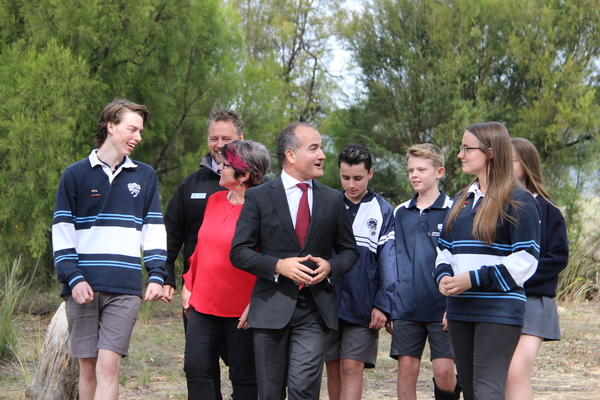 By Kath Gannaway
Upper Yarra Secondary College at Yarra Junction will receive $6.2million as part of a three-school project announced in the State Budget.
Education Minister James Merlino visited the school with Labor Candidate for Eildon and UYSC School Council member Sally Brennan, on Wednesday, 2 May, to congratulate the school community on what will be the first stage of a major upgrade after many years of lobbying.
Principal Scott Tully said work on the new building which will encompass specialist science and general purpose class rooms designed to increase connection to the outdoor environment, is expected to start early in 2019.
The overall $20 million investment which also provides $5.8 million for Lilydale High School and $8 million for Lilydale Heights College aims to address an enrolment imbalance between the three schools by upgrading particular facilities at each of the schools.
Lilydale High will get a new Zoology Learning Centre and admin facilities while Lilydale Heights will get a new Sustainable Learning Hub, gym and a 'town centre' where students can meet.
Together, the projects are set to develop complementary focuses of zoology, sustainability and outdoor environment.
For UYSC's 530 students, and teachers, the new buildings are a first step towards providing a 21st century workplace.
"This is about our connection to the outdoors and the environment that we have here and the aim is that it will facilitate a curriculum that takes advantage of our environment," Mr Tully said.
Ms Brennan welcomed the investment saying she went on to school council with the express intention of getting the resources needed to rebuild the school.
"This is stage one, the start of the process,' she said.
"In all the years I have worked with school-age young people, 22 years of those in Upper Yarra, this school has needed a lot more support than it has been getting, so my intention was to work towards helping making Upper Yarra Secondary College the best school it could be for our local kids.
"It has everything going for it, including great staff … everything except that the buildings have been completely unsatisfactory."
Mr Merlino hailed the $50 million budget spend across Yarra Ranges,that includes upgrades for Mooroolbark, Monbulk and Upwey secondary schools, as unprecedented.
"We have six secondary schools getting significant upgrades in the biggest boost to secondary colleges ever seen in the region.
"This Lilydale and Upper Yarra Education Plan has been designed with the local community and it will help local schools work together with a new focus on subjects and issues that will help students get rewarding jobs and ultimately live rewarding lives," he said.
The $20 million is in addition to $7.3 million for a specialist leadership school and three Upper Yarra primary schools announced in the lead up to the budget.
As reported in the Mail on 1 May, Don Valley will get a new $6.5million campus of the School for Student Leadership (the Alpine School) on a portion of the Haining Farm property, along with upgrades to primary schools – $500,000 for Launching Place, $170,000 for Don Valley and $90,000 for Hoddles Creek.
Visit mailcommunity.com.au for story and more photos, and to catch up on the Alpine School campus story.