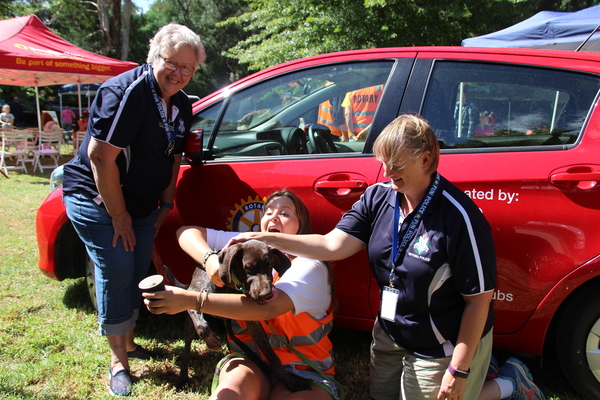 By Kath Gannaway
From Zeppo the Wonder Dog, to Bella in the pink pram, there were Vizslas and bitzas, a joyful assortment of rescue dogs, fluffy dogs and big dogs … all wagging their tails and parading as part of Rotary Club of Healesville's annual Dogs' Day Out on Sunday, 18 March.
More than 100 dogs were registered for the event which is growing in numbers each year.
A highlight of the day was a visit by Nine News presenter and patron of Dogs Victoria, Peter Hitchener OAM, who as an avid dog lover spoke of the wonderful role that dogs play in peoples' lives and congratulated the Rotary Club and everyone involved in bringing people and dogs together in such a happy way.
Event organiser, Rotarian John Robinson said there were some reservations early in the day that the severe weather prediction might affect the numbers, but dog people are a breed of their own and by starting time there was a long line of owners and their pooches at the registration tent.
The program had something for everyone from the waggiest tail to the longest ears, dogs most like its owner, the smallest, biggest, most appealing eyes … and with entry fees purposely kept low, it's a hugely accessible event.
Mr Robinson thanked the sponsors and traders who are also growing in numbers each year and who he said contribute to the success of the event.
See more photos online at mailcommunity.com.au .