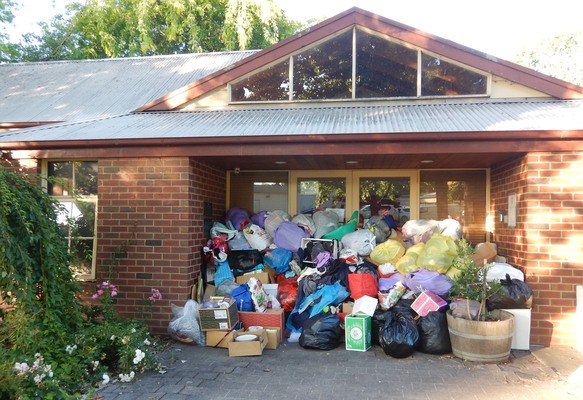 By Kath Gannaway
Volunteers at Healesville opportunity shops have returned from their Christmas break to piles of rubbish on their doorsteps.
Dumped in the guise of donations, very little of the massive overload of bags and boxes is saleable, leaving organisations including the Salvation Army, Living & Learning Centre and Lions Club with the onerous, often unpleasant and costly task of disposing of it.
A note on the Salvation Army opportunity shop door requesting that donations be left at the Army's hall over Christmas was both ignored with 'donations' being left at the shop, and exploited with truckloads of clothing, household goods and garbage blocking the hall entrance to more than half-way up the height of the doors.
Bags and boxes of clothing, toys and other household items left on the footpath adjacent to the Living & Learning opportunity shop in the East End was not only a highly visible eye-sore, but was left in the rain.
Lions volunteers also had to make regular visits over the Christmas/New Year period to clear their back door.
Salvos Captain Sarah Eldridge said while it wasn't unusual for their shops to be inundated with donations at that time of year, they were overwhelmed by the extent this year.
She said however, they are fortunate to be part of a bigger organisation which took their excess donations, and disposed of rubbish at no cost to the individual shops.
"For every person who dumps rubbish we have so many more who donate amazing things because they want it to go to a good charity," she said.
Living & Learning Centre manager Karen Kisala said they have had massive piles of what is just rubbish dumped at both their front and back doors and says it has increased since the closure of the Healesville tip.
"It's a huge problem for our volunteers. We get some really good donations but the reality is a lot of what is dumped on our doorstep is just garbage," she said.
"We've had dirty nappies, dirty clothes and stuff that is obviously not intended as a donation."
Even with the six tip passes Ms Kisala said they were able to get from Yarra Ranges Council last year, they still had to find a volunteer with a suitable vehicle and drive to Coldstream tip.
Apart from the obvious garbage, she said there was a simple guide for donations.
"If you wouldn't buy it, wouldn't wear it, wouldn't use it, then don't donate it," she said.