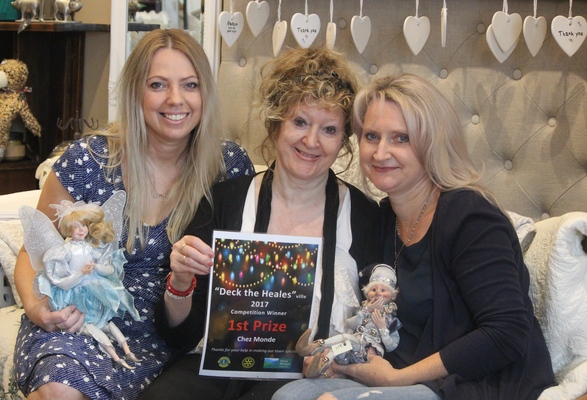 By Kath Gannaway
Chez Monde's traditional white Christmas was a wonderland winner in the 2017 'Deck the Heales" Christmas window display.
The annual competition hosted by the Lions and Rotary clubs of Healesville and supported by Yarra Ranges Council aims to create a festive atmosphere in the main street and engage the business and wider community in celebrating Christmas.
Lesley Grigg from the Lions Club said the seven judges, a mix of Rotary, Lions and community members, had a tough task in choosing a winner from the 23 entries, a dilemma reflected in the awarding of no less than six equal second and six equal third prizes.
Chez Monde, however, was a stand out winner and owners Julie Lawson and daughters Cherie Brown and Natalie Pye, couldn't have been more delighted.
"With no official Christmas decorations in town, we wanted to do our bit to make the town a bit more Christmassy," said Julie and thought we would create something a bit magical with a white Christmas theme, lots of lights and elves and fairies," Julie said.
All three play an active role in the business through their art and jewellery and the Christmas window was another family activity which they said they had enormous fun putting together.
"We would really like to thank Rotary and Lions and the local community for supporting us," Julie said.
Ms Grigg said two special awards were presented, one to Monda Lodge who received a Certificate of Community Excellence which was presented with a basket of Christmas goodies for each of their three houses, and the Ezywear Shop for their Christmas Wishing Tree, a Healesville High School Leo's (Lions) Club initiative where customers made a gold coin donation to hang their wish on the tree.
"There was a great community response to this initiative and that was one of the main aims of our Deck the Heales … competition," Ms Grigg said.
She thanked the businesses who entered this year and congratulated Chez Monde who received $500 as first prize, on a charming and beautifully presented window.
Second prizes of $200 went to Lions Den, Healesville Jewellers, Candy Emporium, Veda Boutique Flowers, K.G. on Maroondah and Crumbz Craft and third prize of $100 to Watts River Café, Grandma's Gift Shoppe, Monique Apothecary, Country Smart, Ezywear Women's Clothing and Silvermist Studio.