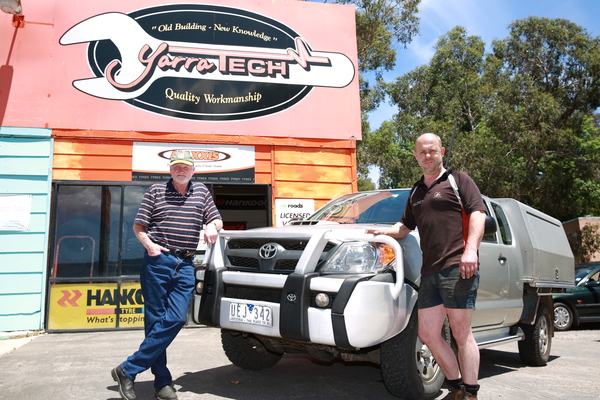 By Derek Schlennstedt
To say that Ian Moreland has put a lot of kilometres on his Toyota Hilux since buying it new in 2006 is an understatement.
In fact the 64-year-old from Gilderoy, who works in the animal husbandry sector, recently joined a select group of people when his Hilux hit the one million kilometre mark early last week.
Officially the 2006 Toyota Hilux SR turbo diesel has done 999,999 kilometres, but only because the odometer doesn't go any higher.
The secret to the "trouble free" vehicle, which Ian said was still running "beautifully," was thanks to the regular maintenance and servicing by John Elvey, owner at YarraTech in Yarra Junction, where it's been serviced every 10,000kms since 2006.
Ian also religiously warms up the car every morning before driving.
"The car has been serviced almost exclusively at YarraTech by John … I'm convinced that he's a magician," Ian said.
"I always warm it up … if it's a cold morning I wait until the dial hits warm, I do that every single time."
John Elvey owner of YarraTech said that while some parts have had to be replaced, the car still has the original engine, radiator and differential.
"For us it's been an interesting journey … it's still running like a clock," John said.
"It's still got the original motor in it, original diff, valves have never been adjusted and it doesn't use any oil … it's had two clutches and a couple alternators but the original motor is really interesting … it still drives really nice.
"At one million kilometres it still has all the integrity of what it was first designed to do."
Aside from regular services and a few minor repairs, the Hilux has required very little to keep it running well, and though Ian said it has never let him down, the car did have an alternator fail while he was near Murray Bridge in South Australia.
"The only time I had a little bit of trouble was when I did an alternator near Murray Bridge," he said.
"You wouldn't believe it, but it actually stopped in front of a Toyota dealer, directly opposite the gate to a Toyota dealer … I don't even consider that as it letting me down."
The odometer has since stopped reading kilometres, but Ian continues to drive it and said he is likely to keep it and has no reason to get rid of it.
"People keep asking me, 'what are you going to buy?'"
"Really what else would I buy … I'm just going to keep on driving it," Ian said.