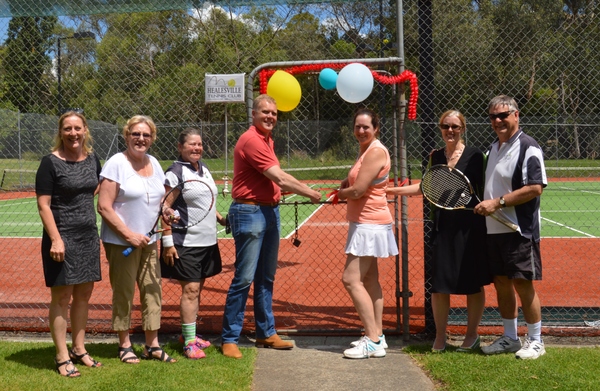 By Kath Gannaway
Healesville Tennis Club completed a 20-year improvement program on Sunday, 19 November, with the official opening of two newly resurfaced courts.
Courts 1 and 2 are the last of the club's six Queen's Park courts to be resurfaced with the en tout cas, sand-filled synthetic grass surface.
The courts were officially opened by Casey MP Tony Smith.
Courts 5 and 6 were resurfaced 15 years ago and 3 and 4 in 2009.
Club president Cathy Cameron said resurfacing the courts had been a major project for the club which had been driven by past president Beth Honeycombe and achieved through hard work and good financial management.
"Beth has been the driving force behind this project over the years, and everything that has been done, the club has found half the funds," she said.
The cost of the final two courts was $48,000 of which the club contributed half, with $20,000 from the Federal Government and $5000 from Yarra Ranges Council.
"It has been achieved by sausage sizzles, tight financial management for the last 20 years, and frugal tennis administration, and I am happy to say we have the best facilities in the Yarra Valley," Ms Cameron said.
Beth Honeycombe said she was thrilled to have the work completed.
"It was always something I wanted to do, and with the help and support of others, including all the committee, we have been able to fund-raise work with government to get this result.
"Queen's Park is such a beautiful public place and are so privileged to be here, so we also have to ensure that we maintain it."
All players will now have the advantage of the en tout cas surface which include that it is kinder on bodies, has true bounce and minimal maintenance.
The opening was attended by Eildon MP Cindy McLeish, Yarra Ranges Council's Ryrie Ward representative Cr Fiona McAllister, and club members, including several past presidents.
The club has 120 members and runs night, day and competition tennis catering for all ages and abilities.
In January, the club will have the opportunity to showcase the new courts, and the club, to the wider community as it hosts the first ever Healesville Open Tournament.
For more information on Healesville Tennis Club, visit www.healesvilletc.org.au .