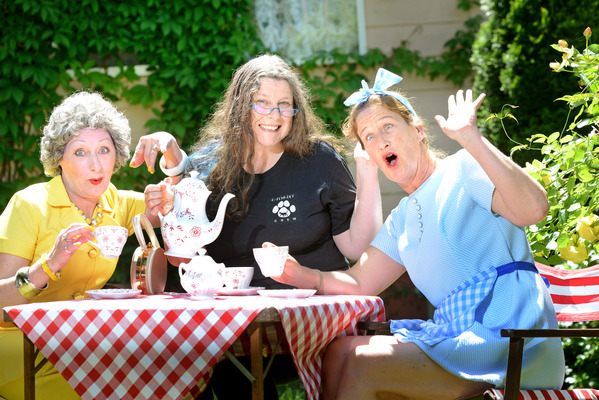 By Kath Gannaway
Don't wait for the 'silly season' to get your laughs … Catprint Productions comedy sci-fi thriller – They Came From Mars – is as silly, and funny as it gets.
Written by David McGillivray and Walter Zerlin, They Came From Mars is a play within a play with three performances at the Art Centre Warburton on 24, 25 and 26 November.
"It's a very silly, silly play about a bunch of ladies doing a play about a play, so a fantastic example of how not to do theatre," Catprint director Claire Bamford explains.
When the Farndale Avenue ladies attempt lift-off with their unique sci-fi thriller, it's a given that their high-tech effects go awry.
Add to that the limited talents of some group members, and the cast remains firmly on the ground.
As ever, the resourceful Mrs Reece brilliantly circumnavigates pitfalls as she steers the company into orbit and through space to genteel tea on Mars.
The Catprint cast is in its final weeks of rehearsal and Claire said one of the biggest challenges for the actors had been to act like they can't act.
"We do so much serious theatre, it's really nice to do something where you're actually trying to do it badly," Claire said.
"You have to act like you can't act for this play, but the cast were just doing it too well.
"It's quite difficult, but they're getting the hang of it and doing a really bad job of it … which in itself is silly."
Book a ticket for your own laughter-filled rehearsal for the silly season at http://ach.yarraranges.vic.gov.au/Whats_On/Catprint, or phone 1300 368 333.