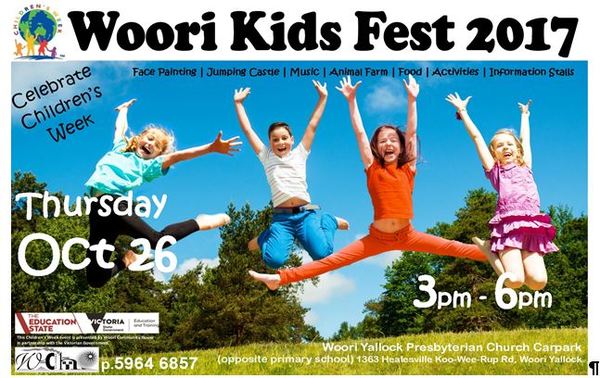 Join in and celebrate Children's Week with free, fun children's activities.
Woori Kids Festival – presented by Woori Community House – will be held on Thursday 26 October, from 3pm-6pm.
The event will be held at the Presbyterian Church car park (opposite Woori Yallock Primary School, 1363 Healesville-Kooweerup Road, Woori Yallock).
Woori Kids Fest is part of a broader range of activities held to celebrate Children's Week.
It is funded by Woori Community House and the Victorian Education and Training Department and is completed with support from Yarra Ranges Council, the Presbyterian Church and many other Community Services and Groups.
Woori Kids Fest is an opportunity for all families and children to attend a 'free' friendly community event to celebrate and recognise Children's Week.
Connect in with local people, services and have some fun.
All activities and entertainment are offered 'free'.
Children are encouraged to participate in the treasure map activity. This is where, upon entry, all children receive a Door Prize Entry Form. They need to visit information stalls and collect eight different stickers for their map. Once done, with details completed, they go into a draw for a chance to win one of the many great prizes on the day.
They will have story time in the main marquee presented by a local community person.
Fun educational talks on bees … with an observation hive and beekeeping gear, and perhaps even sample some honey.
* Free rides on the donkey with Linda.
* Enjoy a sausage from the WHYLD stall.
* Increase exercise by having a jump in the Looney Tunes jumping castle.
* Be gentle and pat the baby farm animals.
* Come and get a free show bag from the Vic Forests stall.
* Come and see the fire truck (Hillcrest CFA) and have a turn at practising hitting the target with a water hose … there may even be a smoke house to experience.
* Explore the fun of building with Lego as a part of the Yarra Valley Brick Design Club stall.
* Explore creativity with Art at Monika's Stall. Book into her classes.
* Homemade goods for sale at the Red Cross and other stalls.
* There will be local community groups and services available for a chat.
* Go home with a free balloon twist and facepainting.
The festival promises to be loads of fun for the whole family.
Be sure to drop in after school on Thursday 26 October.
For more details, or to be involved, contact Woori Community House on 5964 6857.