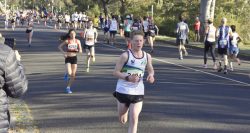 YARRA RANGES ATHLETICS
Yarra Ranges Athletics athletes competed in Round 9 of the Athletics Victoria XCR17 series on Sunday morning.
Conditions were sunny and calm in Burnley for the Victorian Open Half Marathon Championships and Junior 5km Road Championships.
Standout performances came from Georgia Laven, finishing third in the Under 16 Women 5000m, doing enough to retain her overall XCR Champion title from 2016.
Angus Norman was the other place-getter with a breakthrough performance to finish third in Under 14 Men 5000m.
Results: U14 Women 6km Maddie Laven 6th 19.03, U16 Women 6km Georgia Laven 3rd 17.50, Ruby Dixon 7th 18.47, U18 Women 6km Grace Muller 7th 20.15, U20 Women 5km Olivia Twining 8th 20.29, Amy Veenendaal11th 22.22, Open Women 21.1km Judith May 51st 1.33.17, Amanda Laven 82th 1.40.36, Sarah Love 108th 1.46.59, Madeleine Lum 113th 1.48.18, Katie Clarke 123rd 1.51.18, Laura DiGregorio 125th 1.52.17, Erika Bedyn 128th 1.55.59, Kate Van Duuren 137th 2.10.34, U14 Men 5km Angus Norman 3rd 18.47, James Love 11th 21.52 , U16 Men 5km Harrison Van Duuren 9th 17.19, Camden Hewitson 12th 19.10, Liam Russell 14th 19.49 , U18 Men 5km Harry Norman 8th 16.22, James Laven 12th 17.03, Open Men 21.1km Andrew Searles 109th 1.21.39, James Anderson 113th 1.21.42, Michael Clarke 120th 1.22.05, Bryan Ackerly 192nd 1.27.12, Stephen Blair 193rd 1.27.24, Graham Coutts 246th 1.31.58, Jordan Brown 277th 1.35.48, Justin Eagleton 284th 1.36.57, David Laven 337th 1.45.50.
The next club event is the final round of XCR17 with the Princes Park Relays on Saturday 16 September.
After that, the club has a few weekends off before the Track and Field season starts on 7 October.
Keep an eye on the club's website and Facebook pages for news on training and registration days.