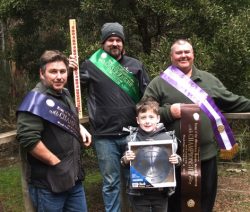 By John Wood
What a day at the Woods Point Gun Club for the King of the Mountain Championships.
Cold, snow, hail – and more snow – then a sunny blue sky in mid-afternoon, but still cold.
Thank goodness for the pot belly stove in the clubhouse.
The starting gate eye opener saw Peter Arbaci of Werribee Gun Club take the AA Grade cash; Peter West, Daniel Chinn and Ian Findlay shared the A Grade cash and Tony Armstrong, B Grade.
Steven Bedggood, Ron Press, and new member John Legge, shared C Grade.
The first event was the KOM 20-target single barrel sponsored by Eddy and Roz Woods of Woods Earthmoving.
One target, one shot.
Due to the falling light snow, no-one managed a perfect 20/20, but Mick Ward returned 19/20 to take the sash and the AA Grade prize as well.
Peter Arbaci was AA 2nd, 19/21, after a very short shoot-off with Don Rhodes.
David Frazer, 18/20 won A Grade with Ian Sinclair 2nd, 17/20, while in B Grade Tony Armstrong, 16/20, took the honours from Geoff Hill, 15/22.
C Grade was a surprise win for Greg Shahin with a great 17/20, John Legge 2nd, 16/20.
John, a new member, is showing some early promise.
After a warming soup and barbecue lunch the KOM 25-target handicap sponsored by Darren and Leanne Carvill of Mansfield High Country Parts was next.
Phillip Desmond fired up after a slow start in the morning to win the sash outright with 24/25 from 24 metres, a great score.
After a shoot-off, Armstrong again shot well to take second place, 25/28 from Chuck Lay third, 24/28, and Trevor Ewert fourth, 25/30.
Eddy and Roz Woods also sponsored the last event, the 25-target KOM Tower Championship.
Ewert finally found his mojo to win the sash, 26/26 from John Legge (there's that name again), second 25/26 and Geoff Hill third, 25/26.
Ward popped up at the end of the day, 29/31, to take fourth place.
The KOM High Gun of the day sponsored by Peter McDonald and Laura Hunter of Mansfield Motorcycles, Mowers and Chainsaws was well won by Phillip Desmond 65/70 from Legge 62/70.
Daniel Chinn is getting on top of the new computerised nominating/scoring software while Kirsten Chinn helped in the office and kitchen and is a dab had at selling raffle tickets while shooting as well.
Next shoot is the Maori Creek Championships including the Jodie Poile Memorial Championship on Sunday 24 September at 10am.
See you there!