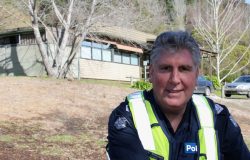 By Kath Gannaway and Derek Schlennstedt
Tomorrow, Warburton police will move out of the portable building they have called home for decades.
Their departure to a temporary home at Yarra Junction Police Station signals the start of construction of a long-awaited new $1.5 million station for the town that will finished in mid-2018.
The new station is one of seven new stations announced as part of a $36.8 million package in the 2016/17 State Budget.
Warburton Sergeant Tom Wilkinson welcomed the news back in April 2016 as a win/win for the police officers serving in the station, those to come, and for the Warburton community.
He said it would assist Warburton police in the way that they responded to the community and addresses a lot of the issues in response to the safety and wellbeing of the members.
The new station will be built on the site of the current station in the centre of the town with officers retaining the outstanding feature of their old home – the magnificent views over the town to the mountains beyond.
Sgt Wilkinson said that although Warburton police will be working from Yarra Junction he assured residents that their first priority was to the Warburton area.
"As per usual practice our police will be tasked to patrol the Warburton area and there will be absolutely no reduction to the number of patrols the community receives from police," Sgt Wilkinson said.
"If anyone needs police counter service they can attend the Yarra Junction Police Station which is only a short 10 minute drive from the Warburton Police Station."
Phones will be diverted from Warburton to Yarra Junction, so residents calling for advice will still be able to get through to police, but Sgt Wilkinson also reminded residents to always call triple-zero before taking any other action.
"As always we remind the community that if you require police attendance it is crucial that you call triple-zero (000) rather than attend or call a police station.
"We want the Warburton community to be assured that our policing response will remain the same during this time."
The Yarra Junction Police Station is at 2395 Warburton Highway, Yarra Junction, and can be contacted on 5967 1104.