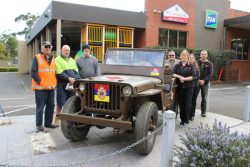 By Kath Gannaway
A collaboration of community groups over more than five years has resulted in an impressive landmark for Healesville RSL, and recognition of the School of Army Health which once operated in Healesville.
The restoration of a WW2 Willys Jeep has been a labour of love involving groups from Rotary and Healesville High School students to the Badger Creek Men's Shed, and the RSL.
The jeep, which stands proud at the front of Healesville RSL, will be officially dedicated to the Royal Australian Army Medical Corps, as an historic link to the School of Army Health.
The School of Army Health was located at the old Summerleigh Lodge in Albert Road, Healesville from the early 1950s through to 1986 when the school moved to Portsea.
The jeep itself has a long and interesting history, which will be explained at the ceremony, along with the story of how a passionate group of men's-shedders have brought it back to life.
The RSL is inviting community members, and in particular those with a connection to men and women who served at the School of Army Health, to join them for the unveiling and dedication ceremony which will be held at the RSL at 11am on Saturday, 9 September. Inquiries to 0412 009 181.