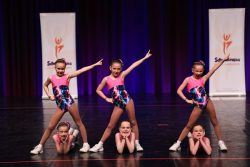 By Effie Caloutas
Launching Place Primary School aerobics teams have won gold, silver and bronze in the Schoolaerobics National Championships held at the Gold Coast Convention Centre on 5 August.
The success in the 2017 championships adds to the school's outstanding performances over a number of years in what is a demanding and highly competitive sport.
Eight of the school's nine teams qualified at state level, with three of those teams qualifying to compete against Australia's best at national level.
The Grade Four girls Pink Warriors won gold in the Primary Littlies Competition, grade three girls 'Disco Divas' won silver in the Future Legends Competition, while the Grade 5/6 boys 'Kryptonite, won bronze in the All Boys Competition.
Teacher Candice Nyman has organised the Aerobics School Program since 2008 and says having the Grade four girls win the competition was a massive achievement.
"We qualified nine years in a row in the national competition, but this is the first time we have won since 2009."
"The girls were really excited, because not only are you representing Launching Place, but you are representing Victoria in the National Competition.
"Our Pink Warriors team won the silver at National level last year, so it was fantastic to see them jump up a spot and win it this year," she said.
School aerobics is the largest inter-school Sport aerobic and Dance Competition for primary school students throughout Australia.
The primary school has had recent success at the National Championships including their Grade 5/6 team winning a silver medal at the National Championships on the Gold Coast in 2013.
Ms Wyman, who introduced aerobics to the school, says the aerobic participants were well prepared before taking part in state and National Championships.
"They train from February, and we get the students to practise their aerobic routine three to four times a week," she said.
She said students were able to practise before school, during recess, and at lunchtime."
"The teams worked extremely hard and did a fabulous job representing our school, and you have a very proud coach here," she said.