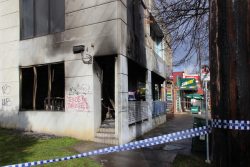 By Kath Gannaway
Nine men have faced Melbourne Magistrates' Court this week charged with trespass and arson in relation to fires that destroyed tattoo shops in Seville and Lilydale in 2015.
The men appeared at mentions hearings on Wednesday 2 August, and Thursday 3 August.
The shops, Valley Custom Tattoos on the Warburton Highway at Seville and Eastern Tattooz in Hardy Street, Lilydale, were destroyed by fire on 13 May, 2015, with damage estimated at more than $250,000.
Police from Task Force Echo allege the accused men entered the buildings intending to cause damage and were in possession of a Molotov cocktail and petrol at the time.
The accused men will return to court on 17 October, 2017.