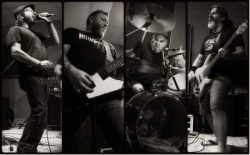 By Kath Gannaway
Home-grown Healesville band The Low Down Brew will be keeping the rock 'n' roll dream alive at the Fluid Lounge on Saturday 22 July.
The four-man band with Brodie Jamieson on vocals, Andrew Goodwin on bass guitar, Elton Pinkston on guitar and Brendan Prout on drums, will release Made Real, its first EP, as part of a fundraiser for the Creepy Monkey Studios.
The EP was recorded at the Chum Creek studios by John Zwart and Mick Youngberry with assistance from Paul Spears and Brice Margetts.
Funds raised will help build some much-needed facilities for the studio which provides a local avenue for local bands that want to take their music to the next level.
Brendan said the band members have been mates since their teens and have been in and out of the local music scene over the years.
"We got together in 2015 to keep the rock 'n' roll dream alive," he said.
Inspired by Australian hard rock bands such as AC/DC, the band writes all their own material – lyrics and music.
The inspiration for the name came from a graffiti post on a wall that Brendan said struck a chord.
"When we started we thought we don't want anything to be fake about the band.
I saw Made Real graffitied on a wall and thought that fits what we do, no back-up tapes, no make-up, no hair spray – made real, from the heart."
While the band is very much about keeping a dream alive, and having fun doing it, it's also about putting out some serious music.
The Low Down Brew is at the Fluid Lounge in Healesville on Saturday 22 July.
Follow the band on Facebook or phone Brendan on 0432 414 927 – they're available for gigs!